The $10-million initial public offering (IPO) launched by Arawak Port Development Ltd (APD) was oversubscribed by $34 million and attracted over 11,000 Bahamian investors from throughout the archipelago, according to the company's chief executive officer Mike Maura Jr (pictured).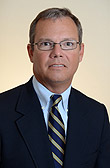 "APD Ltd is proud to say that it has the largest number of Bahamian investors of any publicly traded company in The Bahamas," he says.
In December, APD announced that 20 per cent of the company's shares, around $8 million in equity, would be made available to local investors, with the government and Arawak Cay Port Development Holdings each retaining 40 per cent ownership.
APD was formed in 2009 to facilitate the relocation of the Nassau Port to a new 56-acre site at Arawak Cay and construct the Gladstone Freight Terminal.

Construction at the port is expected to be "substantially" completed by April 15, according to Maura, who says that all container vessels will then be relocated to Arawak Cay. The Freight Terminal on Gladstone Road will become operational on May 15 to coincide with the revocation of transit shed privileges on Bay Street wharfs.
Both the new port and Gladstone Road terminal are expected to be fully completed by the end of the year.
Maura expects Gladstone Road's container freight station (CFS) to contribute to the current economic rejuvenation in western New Providence, spearheaded by the $3.5-billion Baha Mar development and Airport Gateway Project.
"This CFS is located in the centre of the island and will support the ongoing commercial and residential development that is occurring on southern and western New Providence," he says.
cmorris@dupuch.com