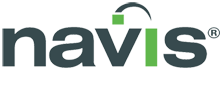 The Arawak Port Development Ltd (APD) is "leading the way" with new technology after it became the first company in the Caribbean region to implement the Navis software for marine terminals at the Nassau Container Port (NCP).
Navis enables marine terminal operators worldwide to maximize performance with reduced risk.
The cutting-edge technology will go live November 18.
Patrick Bukowski, Navis's director for professional services for North America, recently paid a courtesy call on APD's executive team.

"APD is the first to implement Navis in the Caribbean and that is very exciting," said Bukowski.
"Navis has now been implemented in more than 100 terminals around the world. We really are the leading software for marine terminals and we have terminals that are many times bigger and many times more complex, which really places APD in the position to be able to take advantage of that, not just the software, but the ability to bring in new technology to improve the efficiency and the return on investment of your operation."
Chief executive officer and president of APD, Mike Maura Jr, said the new technology is crucial to driving further development and competitiveness for the port, which a powerful consortium of Florida shipping companies recently named number one in productivity out of 24 ports in the Caribbean region.
"In our two years of operation, Nassau Container Port has already made significant gains in operational standards and performance that have won us international recognition. The Navis N4 with XPS upgrade puts NCP technology and standards in league with the biggest ports in the world that handle millions of units of cargo annually," said Maura.
"The Navis system is all about coordination of port activities to support safety, efficiency and accountability. These are essential for optimizing productivity and overall profitability for the benefit of our shareholders."
Maura said the Navis Argo system, which the port has used since it opened, allowed it to coordinate all the movement of cargo from the ship to loading on to the trucks that deliver to importers.
"Now, with Navis XPS, we are creating a network that allows for interface electronically with shipping companies, incoming ships, our dockside and yard operations, gate controls, official services, such as customs, and communication with truckers and other port users and our customers. The system incorporates a full range of customer services, including payment and account monitoring and our own internal accounting and forecasting systems. A big plus is that the system gives visibility to all the primary stakeholders. This will provide customs with a great advantage in its key role of collecting and protecting government revenues," added Maura.
"As Arawak Port Development expands within The Bahamas, the Bahamas Customs Investigations Department can have real-time views of the container movements within a port in the Family Islands. We are also fortunate to have a superb team of Bahamians trained with specialized maritime industry skills to make best use of the technology."
NCP chief financial officer Dion Bethell stressed that keeping the port growing in productivity and containing costs are essential to national well-being.
"When you consider that 90-95 per cent of imports to New Providence, including food items and equipment, move through NCP, you can appreciate that our operations are vital to the livelihood of the majority of Bahamians," he said.
"We have a responsibility to all port users, port tenants, our staff and customers and by extension to all Bahamian consumers. The reason we invest so much in upgrades, such as XPS and in ongoing and first-rate staff training is to manage costs in order to keep tariffs at a reasonable level and thereby contribute to containing customer costs."
Meantime, Bukowski said his company is implementing more modules in the software to reduce the truck turn times so that they spend less time in the terminal.
"Navis and its software is built to be configured and added to, whether it is more services here locally or additional new ports as they come online. It is very easy to bring those ports into the Navis system and be up and running in a matter of weeks rather than the months it might take with another type of system."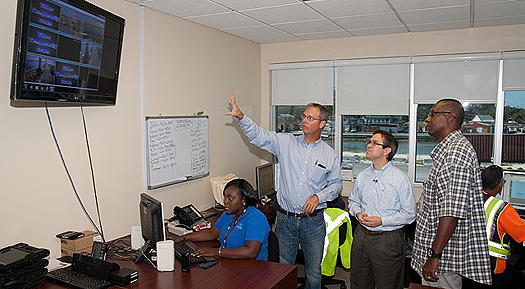 Pictured: (from left) APD CEO Mike Maura; Navis director for professional services for North America Patrick Bukowski; and APD operations manager Crispin Seymour. (Photo/Terrance Strachan for The Counsellors Ltd)