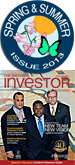 Big or small, a company needs capital to survive. Capital decisions are normally driven by the need to fund growth or a desire to refinance existing capital. The source and type of capital are key to success or failure. Whether a business uses bank debt or enters the capital markets through equity or debt offerings is often determined by several factors, including the size of the company, operating history, desire for privacy in operations, and projected cash flows. Small or start-up businesses normally have limited access to bank financing, and therefore usually have to seek out private or venture capital from family, friends or investors willing to take the risk for higher returns.
Alternatively, established businesses with good financial track records usually have the option of obtaining bank financing or floating their securities on public markets.
Historically, and to some extent today, bank financing was and still is the primary source of capital for many Bahamian businesses. However, the local capital markets, even though still relatively undeveloped, have grown significantly over the last 10 to 15 years. Through both public and private offerings, it is now possible for businesses to access relatively high levels of equity or debt capital from Bahamians, at acceptable costs.
For example, in 2011, Commonwealth Brewery Ltd successfully raised $62.5 million in equity financing, being the largest initial public offering (IPO) in the history of the country. Additionally, in early 2012, Arawak Port Development Ltd, while only raising $10 million, was the most widely distributed IPO, with a shareholder base of approximately 11,400 individuals. It is apparent that Bahamian investors are becoming more aware of investment options beyond the standard term deposit, and appear to be increasingly willing to take on some additional risk for the potential of higher returns.
The key challenges with raising capital in our developing capital market continue to include the limited investor base, negative investor sentiment, limited appetite for risk, and the illiquidity of the secondary market.
Today, the majority of capital continues to be provided by institutional investors, comprising pension funds, mutual funds, insurance companies and other financial institutions. While the retail investor base is still relatively small, their participation in both public and private offerings of equity and debt securities has increased substantially.
However, most Bahamians are risk adverse and have a tendency to let past losses incurred in the capital markets dictate their sentiment towards future investment opportunities. Finally, an illiquid market makes it difficult to both invest and subsequently exit from an investment, and can result in greater costs due to discounts that may be necessary to sell securities at a short notice.
Despite these challenges, given the increased sophistication of the Bahamian investor, the high amount of liquidity currently existing in the country, and the increasing need of businesses for capital, it is anticipated that capital raising activities will continue to flourish. This should serve as good news for the further development of the still fledgling Bahamas International Stock Exchange and capital markets in the country as a whole.