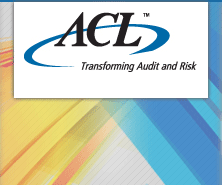 VANCOUVER, British Columbia, Sept. 4, 2013 /PRNewswire/ — ACL today announced that Advanced Disposal, an integrated environmental services company, has chosen ACL™ GRC to meet its expanded internal audit team's risk management, governance, and global Sarbanes-Oxley (SOX) compliance needs.
Advanced Disposal provides collection, transfer, disposal and recycling throughout the U.S. and the Bahamas. Prior to selecting ACL GRC, Advanced Disposal's global internal audit team needed a system that could be accessed by geographically-dispersed users. ACL's cloud-based governance, risk management and compliance (GRC) technology provides SOX compliance users with 24/7 access, regardless of their location.

"We looked at various software solutions and felt that ACL GRC was the product that best suited our expanding internal audit and SOX compliance needs," said Kara Meacham, Director of Internal Audit at Advanced Disposal.
ACL GRC improves the efficiency of GRC activities across an organization by facilitating a clear and organized approach to risk assessment, control documentation, and testing. Overall benefits include increased collaboration and visibility among team members, and the ability to create risk scorecards and visual reports for other departments and stakeholders.
"Organizations with geographically distributed teams greatly benefit from the accessibility that cloud-based technology provides," said Dan Zitting, Vice President, Product Management & Design of ACL. "The ability to efficiently manage compliance workflow and track risks, controls and testing in the cloud is a tremendous productivity benefit for companies managing SOX compliance."
To learn more about ACL GRC, visit www.acl.com/solutions/products/acl-grc/
Supporting resources:
About ACL
ACL delivers technology solutions that are transforming audit and risk management to give organizations unprecedented control over their business.
Our integrated family of products—including our cloud-based governance, risk management and compliance (GRC) solution and flagship data analytics products—are used at all levels of the enterprise to help maximize growth opportunities by identifying and mitigating risk, protecting profits, and accelerating performance.
Thanks to 25 years of experience and our consultative approach, we implement flawlessly so customers realize concrete business results fast at low risk. Our actively engaged community of more than 14,000 customers around the globe—including 89% of the Fortune 500 and hundreds of governments—tells our story best. Here are just a few.
About Advanced Disposal
Advanced Disposal brings fresh ideas and solutions to the business of a clean environment. As the largest privately-owned environmental services company in the U.S., we provide integrated, non-hazardous solid waste collection, recycling and disposal services to residential, commercial, industrial and construction customers across 18 states and the Bahamas. Our team is dedicated to finding effective, sustainable solutions to preserve the environment for future generations. We welcome you to learn more at AdvancedDisposal.com or follow us on Facebook.
© 2013 ACL Services Ltd. ACL and the ACL logo are registered trademarks of ACL Services Ltd. All other company and product names are trademarks of their respective owners.