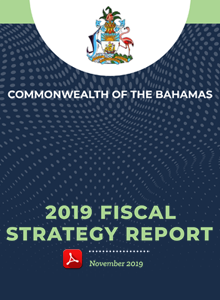 The Ministry of Finance has published an annual Fiscal Strategy Report that outlines the medium-term macroeconomic and fiscal outlook of the country and the government's fiscal strategy to serve as a guide for the preparation of the next annual Budget, in accordance with the requirements of the Fiscal Responsibility Act, 2018.
As mandated by the Fiscal Responsibility Act, 2018, the government is obliged to present the Fiscal Strategy Report (FSR) to Parliament and the newly established Fiscal Responsibility Council, by the third Wednesday of November, yesterday.
The Fiscal Strategy Report outlines the macroeconomic and fiscal outlook that will guide the framework for the upcoming budget—in this case being FY2020/21, and the medium-term horizon.
The context for this Fiscal Strategy Report is quite different from the previous one, as it comes on the heels of the strongest and most destructive storm ever recorded in the Atlantic Ocean, which, in early September 2019, decimated parts of the northern Bahamas, leaving behind total damages, losses and additional costs estimated at $3.4 billion.

In statement the government said: "Hurricane Dorian has been a stark reminder of our vulnerability as an island nation to climate change. It is a reminder that the best of fiscal plans can be usurped by external factors outside of our control."
"The government's commitment to fiscal discipline has been steady. In the two years leading up to Hurricane Dorian, the government achieved success in its fiscal consolidation plans, by reducing the deficit from $660.0 million in FY2016/7 to $212.8 million in FY2018/19—the lowest deficit recorded in nearly a decade."
"It is clear that the impact of this monstrous and unprecedented hurricane will prevent the Government from achieving the fiscal objective for the overall balance of 1.0 per cent for FY2019/20, and the deviation will exceed the 0.5 per cent compliance margin allowed in the Fiscal Responsibility Act, 2018."
Due to the timing of Hurricane Dorian, the government is presenting the Fiscal Adjustment Plan within the 2019 Fiscal Strategy Report, as permitted in the Fiscal Responsibility Act.
Read the full report and address to the House of Assembly here: