Deputy Prime Minister, Minister of Finance and Inter-American Development Bank Governor Peter Turnquest led a Bahamas delegation to the IDB's 7th Annual Consultation of the Governors of the Caribbean Country Department, February 26-27, 2018 in Kingston, Jamaica.
The annual consultation of Caribbean Governors involves discussion on a range of urgent administrative topics, dialogue on IDB-sponsored developments in the region, and agreement on main agenda points for the bank's Annual Meeting in Mendoza, Argentina, in late March.

Meetings include those with Sir Richard Branson and IDB Group President Luis Alberto Moreno leading a discussion on the imperative for the Caribbean region to act now to fully benefit from the digital revolution.
Andrew Holness, Prime Minister of Jamaica, and Toomas Hendrik IIves, Former President of the Republic of Estonia, are to present on leveraging ICT opportunities for advancing technical change in the Caribbean region.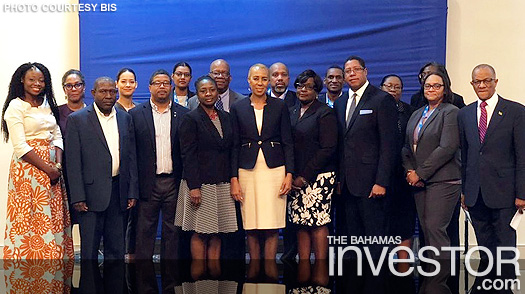 Pictured: Delegates gather in Jamaica February 26. Deputy Prime Minister Turnquest is fifth left. At centre is Minister of State for Finance for Jamaica Fayval Williams. At her immediate left is Minister of Finance for Trinidad & Tobago, Camille Johnson-Regis; to her left is the executive director for the Caribbean Region, Jerry Butler; and to his left Mavis Culmer. Behind Minister Williams, to her right is Minister of Finance for Guayana, Winston Jordan; and to her left Acting Financial Secretary for the Bahamas, Marlon Johnson and DD Carl Oliver. (Photo courtesy BIS)