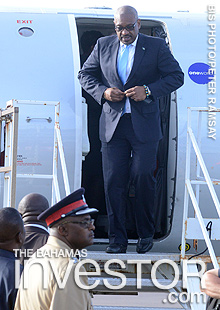 Pictured: Prime Minister Dr Hubert Minnis arrives (left) in The Bahamas and holds a press conference (above) at LPIA. (Photos/Peter Ramsay)
During the final day of the 39th Regular Meeting of the Conference of Heads of Government of the Caribbean Community (CARICOM), Prime Minister Dr Hubert Minnis said that several matters of significant importance had been addressed at the summit held in Jamaica, July 4-6.
"There several matters that I think were of great importance and significance to The Bahamas which have to be resolved, discussed, and The Bahamas' position be placed firmly within the Caribbean Community," the Prime Minister said.
He pointed out that one of the items discussed in particular is the CARICOM Single Market and Economy (CSME) and the free movement of people between all 15 CARICOM member states.

"The Bahamas, and I repeated it to my prime minister colleagues at CARICOM – The Bahamas cannot support the free movement of people throughout its boundaries."
"As you know we are a population of about 400,000 and there are countries within the Caribbean Community which have as many as 11 million, and the entire Caribbean Community is about 21 million. The free movement of people can pose great threats not only to our security, but employment of the Bahamian populace," he said.
Prime Minister added that he told his CARICOM colleagues that The Bahamas is probably the most integrated CARICOM nation in terms the number of Caribbean nationals who are a part of its society.
"We have a great number of Jamaicans who are contributing to the growth and development of our country. We have a great number Barbadians who would have started our police force, [and are] involved in teaching and medicine, and St Lucians who helped with land surveying and are still contributing to that; we also have a great number of Trinidadians. So CARICOM nations have always been a part, and still are a part. So when you look at integration, they are there."
At the conclusion of the Meeting, Heads of Government reviewed the operation of the CSME and reiterated the need to accelerate its implementation.
In that regard, the delegates adopted the Protocol on Contingent Rights which will cover the rights of persons moving to another country under the free movement of skills regime, as well as the spouses and dependents of those who move to another country.
Heads of Government regarded this as a major historic step that would encourage greater use of the free movement of skills, as it ensures levels of comfort for families.
However, The Bahamas remains a non-participant in the CARICOM SME.
Prime Minister Minnis returned to The Bahamas July 7.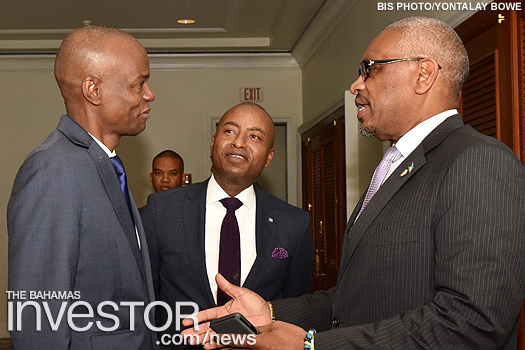 Pictured: Prime Minister Dr Hubert Minnis (right), President of Haiti (left) Jovenel Moise and (centre) Bahamas Minister of Foreign Affairs Darren Henfield at the 39th Regular Meeting of the Conference of Heads of Government of the Caribbean Community held in Jamaica, July 4-6. (BIS Photo/Yontalay Bowe)