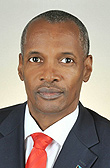 Desmond Bannister, Minister of Public Works, will be the principal speaker at the 6th annual Business Outlook Eleuthera to be held April 26 at Valentine's Residences, Resort & Marina on Harbour Island.
The forum will include a workshop led by the Department of Inland Revenue on the new business licence format, showing applicants how to use the new process.

Themed 'Creating A World-Class Eleuthera, Harbour Island & Spanish Wells', the programme will offer a wide range of presentations from leaders, developers, businesspersons and tourism and promotion board representatives.
In addition to the Minister of Public Works, speakers include Howard Rickey Mackey, MP for North Eleuthera, Thomas Sands, Jr president, Eleuthera Chamber of Commerce and Ryan Pinder, partner, Graham, Thompson & Co.