The Bahamas' Financial Transactions Reporting Act, 2018 (FTRA), will meet all of the deficiencies that were identified in respect to the country's compliance with the recommendations of the Financial Action Task Force (FATF), Attorney-General and Minister of Legal Affairs Carl W. Bethel said Wednesday.
Addressing a stakeholder meeting with industry regulators and members of the Bahamas Bar Association, Attorney-General Bethel said the Act will, in a broad sense, be the "heart of the system of compliance and due diligence that will henceforth be the standard of conduct to be expected of all participants in financial services."

The stakeholder meeting was hosted by the Office of the Attorney-General, in conjunction with the Bahamas Bar Association, as part of the 2018 Legislative Series. Attorney-General Bethel provided an overview of the FTRA during Session I.
The Bahamas was found to be deficient in 22 of the 40 recommendations included in the FATF's Mutual Evaluation for late 2015. Attorney-General Bethel said the present administration received notice in late May, beginning of June, 2017, and has been working assiduously to correct the situation ever since.
"You only need to be deficient in 21 of them to be where we are today," Attorney-General Bethel said. "One of the things that was required was to bring into effect an updated Financial Transaction Reporting Act. Drafts were found in the Ministry's files, but had not been progressed. They weren't aligned with the FATF's recommendations."
Attorney-General Bethel said the FATF "break their recommendations down" into almost microscopic suggestions that are called methodologies.
"And so you have the recommendation. To comply with the recommendation, you have to show that you have the methodology in place and are implementing it. How do you get the methodology in place? You have to craft laws almost with microscopic attention to these methodologies. That is the process we have been at and so today we now have an FTRA. We will have a fully compliant and acceptable FTRA that will meet all of the deficiencies," Attorney-General Bethel added.
The Financial Transaction Reporting Act was one of several areas covered by Attorney-General Bethel during Wednesday's session. The Attorney-General also addressed matters ranging from compliance to lawyer/client privilege.
Attorney-General Bethel said the session with the stakeholder group, was a necessary part of the stakeholder consultative process on the Financial Transaction Reporting Act, as lawyers/attorneys and accountants are now being looked upon as financial institutions globally. They were previously designated as Non-Financial Businesses and Professions (DNFBPs).
"Lawyers, accountants and certain other professionals, were never treated as financial institutions before, they merely had duties of customer due diligence, making Suspicious Transaction Reports (STRs) possibly, but they were never given the duties of being a financial institution. That has all changed. They are now in the category of financial institutions," Attorney-General Bethel said.
"Now attorneys, apart from having the usual due diligence, they must verify it. That's the kind of 'enhanced' due diligence that is now required because the standard now is obtaining and verifying. The second aspect of that is of course, that as financial institutions, you are now expected to comply and to be regulated."
The Attorney-General also addressed the matter of lawyer/client privilege.
"We all know that privilege does not extend to the issue of, or in any way facilitate, the commission of a crime by a client. So there are limits to privilege. It was suggested to myself and my staff in a meeting with the Bar Council by some persons, that we look at the situation in Canada whereas it is well known that the Supreme Court ruled that lawyer/client privilege was akin to an absolute right and that any intromission into this sacred territory violated certain articles of the Canadian Charter of Rights and Freedoms."
"And so Canada is habitually, in its mutual evaluations, given negative ratings on this whole issue of the legal profession and privilege because it is inescapable that they are unable to comply with the recommendations that they, as a member of the FATF, are party to imposing on the rest of the world."
"But the reality is that Canada is a country with enormous natural resources, 40-50 million people, and a standing army, navy and air force. They do not need the world as much as we do. We have an entirely open economy. We are an integrated part of the world, and we are very small. We do not have the luxury that a Canada can enjoy."
Attorney-General Bethel said it is expected that lawyer/client privilege will be kept within due bounds.
"Any time counsel is aware of anything untoward, it is mandated by law that STRs be generated."
The Attorney-General expressed his "full confidence in this august and learned legal profession" of The Bahamas.
"You have helped to pilot this Ship of State through many such storms. This is only the latest. This is The Bahamas. We know how to pilot the ship. Let us remember that it is not survival of the fittest, it is survival of the smartest and I always say about this Blessed country, that we may not have natural resources – iron or steel, etcetera; we may not have rare earth minerals, we may not have large quantities of agricultural lands to speak of (and) so we have had to learn, and we have learned over this past four hundred-odd years, to not only survive, but to succeed because we use what God gave us between our ears – our brains. We have what it takes not only to survive, but to succeed."
"My colleagues of the Bar, I have every confidence that you will continue in that noble tradition of not just surviving, but succeeding," Attorney-General Bethel added.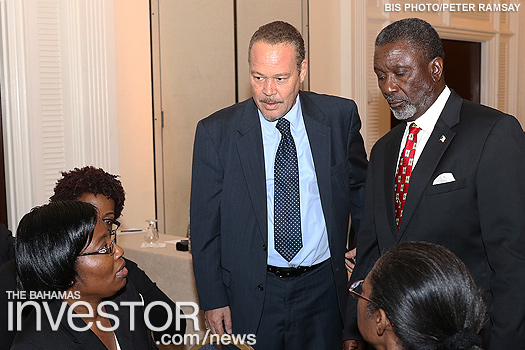 Pictured: Attorney-General and Minister of Legal Affairs Carl Bethel, QC, chats with officials from the Office of the Attorney-General and Ministry of Legal Affairs during a break in Wednesday's session May 16. Attorney-General Bethel was accompanied by (first right) Marco Rolle, Permanent Secretary, Office of the Attorney-General and Ministry of Legal Affairs. (BIS Photo/Patrick Hanna)