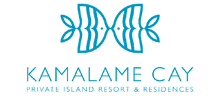 ANDROS, BAHAMAS JULY 13, 2017 (PRWEB) – For the second year in a row, the readers of Travel + Leisure magazine have named Kamalame Cay, a private island resort in the Andros archipelago, "Best Resort Hotel, Caribbean, Bermuda and the Bahamas". The exclusive resort was also named among the top 100 hotels in the world, ranking 17th; up from 33rd in the world in 2016. The Travel + Leisure World's Best Awards 2017 Readers' Survey results were announced today by the magazine's editors.

"It is an amazing honour to have been chosen again by the readers of Travel + Leisure for this prestigious award," said Kamalame Cay proprietor David Hew. "We strive to provide our guests with a vacation that is unmarred by the worries of the world, a true getaway during which one can reconnect with friends, family and oneself– one where every need and desire is filled even before it they can be named. It is wonderful to have our efforts toward this end be recognised by one of the most respected travel magazines in the world."
A private island praised as much for its relaxed chic and world-class cuisine as its natural beauty, charm and style, Kamalame is the very antithesis of the corporate luxury resort. The ultimate tropical getaway where a bikini and sarong counts as dressed for dinner, every guest is treated as family, and the atmosphere is as much gracious vibe (and chilled Rosé…) as spectacular setting.
Having taken over management in 2011, David Hew and Michael King expanded upon Brian and Jennifer's original vision to create a truly extraordinary escape. With backgrounds in art, advertising, and luxury magazine publishing, across Sydney, Miami, London, and Toronto, Michael and David pooled their international panache. Well-traveled food and design aficionados, they reimagined the island's cuisine program, enhanced the wine and spirits lists, refreshed décor, guided fresh directions in interiors and architecture, and introduced social and culinary events that drew a stylish crowd from around the World. New developments in 2016-2017 included the addition of eight beach bungalows and two villas to the portfolio, the launch of private seaplane and helicopter services between Nassau and the Cay and the expansion of the Tiki bar and pool menus. The 2017-18 season will see Kamalame celebrate its 20th anniversary with a year of celebrations and events and a number of exciting new developments to enhance the guest experience.
"We could not win two years in a row without the help of our tireless, excellence-driven Bahamian team, our local partners and bespoke suppliers," concluded Michael King.
For more information about Kamalame Cay, visit http://www.kamalame.com; email info(at)kamalame(dot)com or call 1-877-768-9423 for reservations.