NASSAU, The Bahamas – World Travel Awards was founded in 1993 to recognize, acknowledge and reward excellence in the travel, tourism and hospitality industry worldwide. Now celebrating its 23rd anniversary, World Travel Awards is recognized globally as the hallmark of quality, with winners setting the benchmark.
The Islands Of The Bahamas are delighted to have been nominated in nine Caribbean categories by the 23rd annual World Travel Awards, including Leading Beach Destination, Cruise Destination, Cruise Port, Destination, Dive Destination, Honeymoon Destination, Luxury Island Destination and Romantic Destination. Additionally, The Bahamas Ministry of Tourism has been selected as a candidate for the Caribbean's Leading Tourist Board.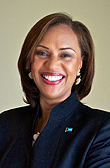 "We're thrilled to receive these distinguished acknowledgments from the World Travel Awards, especially in such a competitive market," said Joy Jibrilu [pictured], Director General, The Bahamas Ministry of Tourism. "Being nominated in nine of the Caribbean's Leading categories is a true testament to our team's diligence and commitment in providing the highest quality travel experiences for visitors to The Bahamas."
As a nominee, The Islands Of The Bahamas can be voted for online by fans across the world. Fans can submit their votes at WorldTravelAwards.com from March 7, 2016 until July 31, 2016.
Winners will be announced on September 17, 2016 and honored at the Caribbean & North America Gala Ceremony at Sandals Ochi Beach Resort in Ocho Rios, Jamaica.