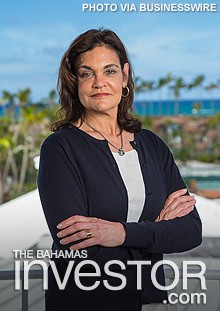 Pictured: Audrey Oswell, President and Managing Director, Atlantis, Paradise Island resort. (Photo via Business Wire)
PARADISE ISLAND, Bahamas–(BUSINESS WIRE)–Today, Atlantis, Paradise Island resort in The Bahamas announced the immediate appointment of Audrey Oswell as President and Managing Director.
Oswell has held the role of Chief Operating Officer at the resort since the end of 2016 and had previously held the role of Chief Gaming Officer at Atlantis from 2011 to 2013. With this appointment, Oswell becomes the first female President of Atlantis, Paradise Island.
According to Andrea Balkan, Managing Partner of Brookfield Asset Management, owners of the resort, "we are extremely pleased that Audrey will elevate her leadership role at the resort, especially as she was an integral part of the team that was involved in creating the new vision and direction of Atlantis. Audrey is not only deeply experienced in the resort and casino space, but she brings a level of compassion and knowledge to this role. We look forward to sharing the ongoing success of Atlantis across the highest levels of guest service, experience and industry-leading innovation."

In assuming her new role, Oswell stated, "We have an incredible team of over 7500 associates in The Bahamas and in offices around the world that support the work we do with marine life, the ocean and the country. I am proud to lead the team on our continued journey to bring the amazement of Atlantis to our guests. We remain wholly committed to our goal of supporting the ecology and economy of The Bahamas and bringing it all together effectively to provide and create authentic Bahamian experiences for our guests."
Audrey brings more than 30 years of experience in the hospitality and gaming industry to this role. Prior to joining Atlantis in 2016, she served as the interim CEO/COO for Seneca Gaming. Audrey has also served as President and COO at Caesars, as CEO at Resorts International in Atlantic City and as COO at Fountainbleau in Las Vegas. Audrey is known for her innovative and integrated approach to operations, where through collaboration with all stakeholders, she supports the development of new concepts and creates outstanding programs. Audrey holds an MBA from Drexel University and a BS from Temple University.