Chairman of The National Bankers Association, based in Washington, DC, Preston Pinkett, paid a courtesy call on Minister of Financial Services Hope Strachan, February 8, 2017 at the offices of the Ministry.
He was accompanied by Bahamas Consul General to Washington, DC, Paulette Zonicle.
Pinkett was in The Bahamas to meet with members of the local banking industry.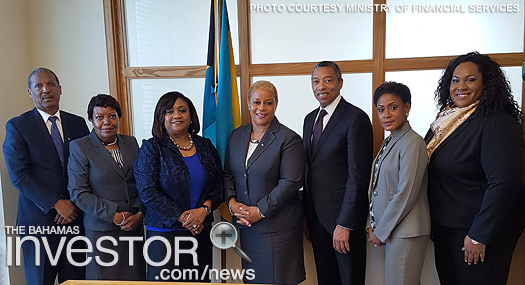 Pictured: Hillary Deveaux, consultant, Ministry of Financial Services; Sherrylee Smith, permanent secretary of The Ministry of Financial Services; Paulette Zonicle, Bahamas Consul General to Washington, DC; Minister Hope Strachan; Preston Pinkett; LaTonia Symonette-Tinker, consultant, Ministry of Financial Services; and Angelique Sawyer, financial and trade officer, Ministry of Financial Services. (Photo courtesy Ministry of Financial Services)