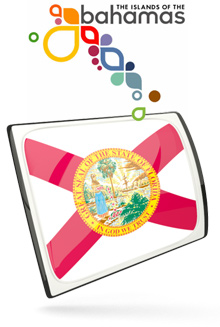 The Islands of The Bahamas Florida Sales and Marketing team, "A Bahamas Affair" Road Show, has been described an unqualified success by those in attendance. The major marketing initiative, featuring a live talk show, a 3D presentation, and Junkanoo dancers, wowed the many travel agents that attended the shows, across Florida. The shows began in Orlando and Tampa, Florida and culminated in Hollywood, FL, February 25th.
The shows are the beginning of a major marketing thrust to herald the presence of The Bahamas Ministry of Tourism's focused re-engagement with travel agents. The events have served not only to renew relationships within the travel agent community, but also to advise of the many new and upcoming developments in The Bahamas, and share about the major upcoming events on the Islands – including the Second Annual Bahamas Junkanoo Carnival Festival.

One of the highlights of the show, a 3D Marketing and Sales presentation, was well received by the agents who donned 3D glasses. The travel agents also enthused over the live talk show, "The SCOOP" describing it as "different", "cutting edge," and a great way to share information in an informative and entertaining way. The Bahamas Ministry of Tourism's Deputy Director General, Ellison "Tommy" Thompson was the featured guest of the live talk show, which provided Bahamas updates and travel trends. Other guests on the panel included Rick Chominski of the Nassau/Paradise Island Promotion Board; Russell Miller, Grand Bahama Island Tourism Board; Kerry Fountain, Out Island Promotion Board and Jody Diamond of Diamond PR.
The road show also allowed agents the opportunity to speak with Bahamas vendors and partners, one on one, with B2B appointments. The agents were also feted to the music and entertainment of Bahamian musician extraordinaire, Preston "Puzzle" Wallace after guests were ushered in to dinner by the rhythmic, colorful and exciting sounds and sights of Junkanoo. Gourmet meals enjoyed included steak and lobster.
The ambitious marketing and sales road show was directed by Greg Rolle, Senior Director, of Tourism responsible for Sales and Marketing for the U.S. and Jennifer Gardiner-Bannister Area Manager, Florida, who were assisted by members of their team, Donna Mackey, Senior Manager, Florida and Elke Pettiford, Manager, Florida. On the Road, the Florida team were assisted by other U.S. based team members including Garbrielle Archer, Area Manager, Washington, DC; Prescott Young, Area Manager, Los Angeles, CA; Mikala Moss, Area Manager, New York; Dupree Smith, Marketing, Houston, Texas and Vandia Sands, Marketing, Washington, DC.
The tourism group were joined by their partners in the industry including The Bahamas Out Island, the Nassau Paradise Island and Grand Bahama Island Tourism Boards; hotels including Atlantis, Sandals, Bimini World Resort Hilton and Abaco Beach Resort and Marina ; Ground Transportation, Forbes Charter, Grand Bahama; Travel Impressions Tour Operators and Balearia Fast Ferries and Paradise Cruises.