Source:
Date:
Updated:
Author:
Caribbean Journal
Monday, June 13, 2016
Monday, June 13, 2016
Dana Niland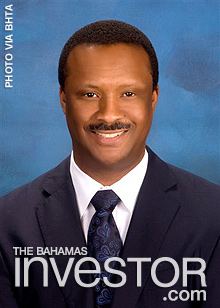 Pictured: BHTA President and senior vice president and general manager of Coral Towers at Atlantis, Paradise Island, Stuart Bowe. (Photo via BHTA)
The Caribbean Hotel and Tourism Association [recently] elected a new slate of Caribbean tourism officials at its Annual General Meeting held at the Hyatt Regency Miami.
The five vice presidents elected to serve for the 2016-2018 biennium include: Stuart Bowe, president of the Bahamas Hotel and Tourism Association and senior vice president and general manager of Coral Towers at Atlantis, Paradise Island, Bahamas; Karen Whitt, director of the Turks & Caicos Hotel and Tourism Association and general manager, Regent Palms Turks & Caicos; Patricia Affonso Dass, immediate past chairman of the Barbados Hotel & Tourism Association and general manager of Ocean Two Resort & Residences, Barbados; Wayne Cummings, director of business processes and administration of Sandals Resorts International; and Pablo Torres, general manager of Caribe Hilton San Juan.
The announcements were made on the sidelines of the CHTA's annual Taste of the Caribbean culinary competition and festival.
This is an excerpt from Caribbean Journal as it appeared on June 13, 2016. For updates or to read the current version of this post in its entirety, please click here.

Continue reading this post >