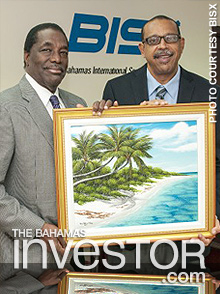 Pictured: (from left) Higgs and Johnson Partner and Former BISX Director Dr. Earl Cash, BISX Chairman Andrew Strachan. (BISX Photo)
The Bahamas International Securities Exchange (BISX) recently paused to show gratitude to a long standing former BISX Board Member. Dr. Earl Cash a Partner at the law firm Higgs and Johnson served as a BISX director for over 14 years having been appointed in October 2001 and having retired from the Board in November 2015.
Speaking while presenting Dr. Cash a token of appreciation from the Exchange, BISX Chairman, Mr. Andrew Strachan noted: "It was my pleasure to serve with Dr. Cash over the past few years. Dr. Cash was a Member of the Board of BISX from some of the early days of the Exchange. We look to build upon the legacy begun by individuals such as Dr. Cash as we continue to develop the Bahamian Capital Markets. On behalf of the entire BISX Board it is my pleasure to present Dr. Cash a piece of local Bahamian artwork, which he has always been a supporter of."

BISX Chief Executive Officer Mr. Keith Davies also added a note of gratitude: "From the time Dr. Cash joined the Board he was steadfastly committed to the growth of the Exchange. Over the years of our working relationship I have valued the sage advice that I have received from Dr. Cash, and I look forward to this advisory relationship continuing into the future."
The BISX Board consists of Mr. Andrew Strachan, Mr. Ian Fair, Mr. Michael Anderson, Mr. George Farrington, Mr. Anthony Ferguson and Mr. Simon Wilson.