The Securities Commission of The Bahamas announced today that it will chair the Caribbean Group of Securities Regulators (CGSR) and host the annual conference and general meeting for the next two years.
The decision was made during this year's conference in Runaway Bay, Jamaica held 22-24 April 2015. The Bahamas' appointment as chair and secretariat until 2017 was unanimously supported and agreed at the CGSR annual meeting on 23 April 2015.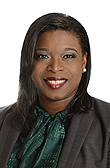 The commission's executive director, Christina Rolle (pictured), welcomed the chairmanship saying it presents an opportunity to demonstrate The Bahamas' ongoing commitment to the development of the securities and capital markets.
"It is important that the commission continues to take advantage of regional forums such as the CGSR, where we can connect with our counterparts and share knowledge, ideas, and common experiences."
"Engagement with international regulators is one of the keys to the development and advancement of the securities and capital markets."
Stephen Coakley Wells, the commission's deputy executive director, and Christian Adderley, the deputy manager of the market surveillance department were also in attendance at this year's conference.
The CGSR was established to create a forum for regional securities regulators to discuss issues facing Caribbean region securities and financial markets.
As such, the topics for the conferences are usually focused on issues relative to regional capital market development. The 2015 conference was themed "Capital market development and the role of financial inclusion", and was hosted by the current chair, the Financial Services Commission of Jamaica (FSC).
The Bahamas commission is a member of several international regulatory organizations including CGSR, the Council of Securities Regulators of the Americas (COSRA) and the International Organization of Securities Commissions (IOSCO).