Opened by Prime Minister Dr Hubert Minnis during a ceremony 26 April 2019, the 7.3-acre Poinciana House complex located on East Bay Street is now home to three of the country's financial regulators: the Securities Commission of The Bahamas; the Insurance Commission of The Bahamas; and the Compliance Commission of The Bahamas.
At the opening, the Prime Minister said the presence of financial regulators together at Poinciana House will allow them to take advantage of efficiencies due to their proximity.

He said it also underscores the growing importance of financial regulation in the country.
"These regulators will continue to enjoy synergies derived from the physical proximity to each other, including certain shared functions and the sharing of related costs," the Prime Minister said.
"Poinciana House symbolizes the evolution of financial services in The Bahamas, and the increasing prominence world-class regulation plays in safeguarding the reputation of our jurisdiction as a premier international financial centre."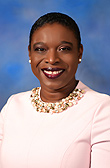 Christina Rolle (pictured), executive director of the Securities Commission, said the transition was imperative for the Commission, which was projected to outgrow its former location at Charlotte House. She said a solution was sought that would allow all of the affected financial regulators to continue to benefit from being housed together.
"The vision for Poinciana House was to create a central hub for various regulators in a business complex that would be independent of external ownership and positioned in an efficient and appropriate location for servicing the financial sector in our relevant capacities," Rolle said.
"From this complex, we will serve our stakeholders, the general public, market participants and the financial services industry at large."
Purchased through a Special Purpose Vehicle set up by the Ministry of Finance (Poinciana SPV Ltd), Poinciana House consists of a North and South building, which collectively span approximately 58,000 square feet of internal space. The complex also contains sufficient parking facilities for staff and guests, and features unimproved land suitable for further development.
The East Bay street property also houses the Data Protection Commission of The Bahamas and various financial institutions.
The Securities Commission is currently the shareholder of Poinciana SPV, on behalf of the government of The Bahamas.