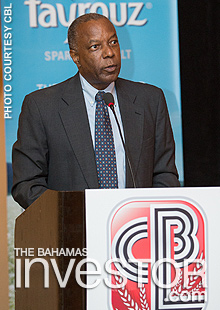 Pictured: Commonwealth Brewery Ltd chairman Julian Francis. (Photo courtesy CBL)
Commonwealth Brewery Ltd chairman Julian Francis announced revenue of $124.2 million and plans for growth during the company's fourth annual general meeting June 16 at the British Colonial Hilton.
Francis noted that the nation's largest manufacturer and distributor of spirits, wine and beer was a debt-free company with ownership that included more than 3,000 Bahamians.
Revenue increased $5 million from $119 million in 2013 to $124 million in 2014, a hike of 4.2 per cent. Net income stood at $18.2 million, earnings per share were $0.61 and the company paid $18.3 million in dividends.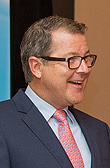 "The business environment in The Bahamas in 2014 was challenging," said Hans Neven (left), managing director. "Despite a difficult environment, your company did well."
Sluggish market conditions in the first half of the year were offset by a substantial increase in the latter half largely, Neven said, as a result of the introduction of new products and successful promotions.
Investments of $2.9 million in 2014, Neven said, increased by 70 per cent compared to the previous year, confirming the brewery's "commitment to the Bahamian economy," an economy to which CBL contributes significantly accounting indirectly for 2 per cent of the GDP force and 3 per cent of the labour force.
Investments in physical plant, skills training and accident prevention, executives said, would continue to be made over the next 3-5 years as ambitious and major revitalization efforts transform its 51 stores.
"At Commonwealth Brewery, we believe it is important to create a balance between people, profit and planet and that long-term growth comes in a responsible way," said Neven.
Highlights of the company's recent developments range from its rebranding to the launch of new products, including Kalik Radler, non-alcoholic Kalik Radler 0.0% and Fayrouz.
Share value shot up 75.3 per cent in the four years since the company went public in 2011.
CBL also announced that revenue in the first quarter of 2015 was up 5.6 per cent, foreshadowing a good year even before the opening of the much-anticipated mega-resort.
The first months of 2015 also saw CBL boost its profile sponsoring major events hosted by The Bahamas including the IAAF Relays and Bahamas Junkanoo Carnival. Marketing director Lino Villareal noted that those promotions and partnerships served to further cement the strong cultural bond between Kalik and The Bahamas.
Shareholders returned all directors for another term. Those directors include Julian Francis, Hans Neven, Edward Fields, Dennis Hanna, Radovan Sikorsky, Eugene Ubalijoro and Cecile Williams-Bethel.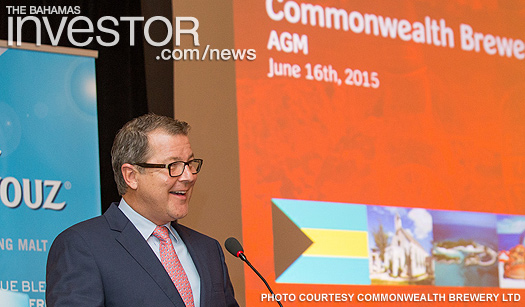 Pictured: CBL managing director Hans Neven. (Photo courtesy CBL)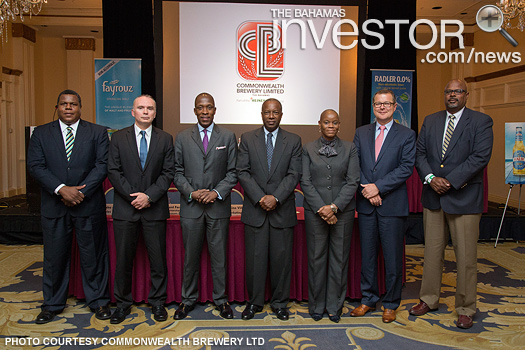 Pictured: Re-elected CBL Directors (from left) Dennis Hanna, Radovan Sikorsky, Eugene Ubalijoro, Julian Francis, Cecile Williams-Bethel, Hans Neven and Edward Fields. Shareholders returned all directors for another term at Commonwealth Brewery Limited's 4th annual general meeting. (Photo by BVS for DP&A)