Public private partnerships (PPPs) will prove crucial to The Bahamas' economic recovery, according to Prime Minister Perry Christie who this week said the country was "poised for a great jump forward".

"If we are to sustain progress on all facets of our national development, we have to continue to work towards a stronger relationship between government and the private sector," he said, delivering the opening address at the Bahamas Economic Outlook conference, which took place this week at Atlantis Paradise Island. "Public private partnerships must be stepped up to expand our overall investment capacity. [We need] a more enabling environment for economic activity."
The Prime Minister indicated that higher levels of foreign direct investment (FDI) in the coming year would help The Bahamas "increase our global competitiveness." He pointed to ongoing developments such as the $3.5-billion Baha Mar project on Cable Beach, expansion at the Albany gated community, the Island House boutique hotel, which is due to open this spring and construction of a Holiday Inn in downtown Nassau, saying: "I am confident that our economy will grow at a healthier pace in 2015 than last year."
Christie also referred to the government's National Economic Development Plan, which is being drawn up to provide an economic roadmap for the country.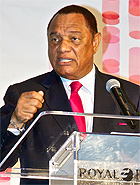 "Growth and competitiveness is about ensuring that the right foundation is laid," he said and added that a first draft of the plan will be available by the 2nd quarter of 2015.
The Bahamas Economic Outlook was hosted by Royal Fidelity and the Royal Bank of Canada and also featured Marla Dukharan, group economist for RBC's Caribbean operations and economist and author David McWilliams.
cmorris@dupuch.com