Source:
Date:
Updated:

The Tribune
Tuesday, November 10, 2015
Tuesday, November 10, 2015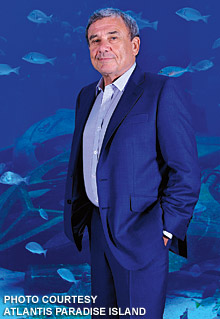 Monday, November 9, 2015 (Tribune)–According to sources close to the negotiations, The Tribune has learned that a deal in principle has been struck for Baha Mar between Island Capital Group LLC, a private real estate merchant bank led by Andrew Farkas and partnered by hotel magnate Sol Kerzner, the Export-Import Bank of China and China State Construction Engineering Corporation Ltd.
This will ultimately lead to the two billionaire investors being exclusively responsible for the restructuring, financing, completion, opening and operating of the beleaguered $3.5 billion resort on Cable Beach. It would bring to an abrupt end any further actions by Supreme Court appointed receivers.
The Tribune has learned that representatives from Island Capital Group have been in Beijing working out the details of the agreement, which is understood to be awaiting the rubber stamp. The Tribune also understands that the final aim is to analyse the debts, contracts and other financing needs with a view to concluding what is definitively required to be undertaken to make the resort ready for its long-delayed grand opening over the next six to nine months.

Last month Baha Mar was put into receivership, ending a summer of insolvency which saw over 2,000 employees being laid off. It was originally scheduled to open in December 2014.
"Should these reports be true," said a prominent financial analyst last night who wished to remain anonymous, "it's music to my ears. I believe that thousands of unemployed Bahamians an contractors may be jumping around with joy. Sol Kerzner revitalised the Bahamas and our reputation in the 1990s. I wait with bated breath to see if the reports are confirmed that Mr Kerzner has joined with Mr Farkas to save us yet again,"
A close friend of the pair said: "With Mr Farkas' legendary deal making skills, global connections and Caribbean heritage, coupled with Sir Sol's operational expertise and, unparalleled ability to execute hotel investments of this magnitude – in unforgiving and unique landscapes like the Bahamian islands – I am certain the Bahamian public will welcome the news of their return. This sequel could have the potential to rival Mr Andrew Farkas' and Sir Sol's most prolific runs over the past 20 years."
Mr Farkas left Salomon Brothers and founded his own property investment company, Metropolitan Asset Group, with $5 million from 10 investors. It eventually became Insignia Financial Group, one of the largest owners and operators of multi-family housing units in the US, according to The Real Deal, The New York Real Estate News. "The company at one time controlled some 350,000 homes and 200 million square feet of commercial space before it was sold," it reported.
Another friend suggested this also will be a kind of "redemption" for Mr Kerzner. The innovative 80-year-old South African-born hotelier transformed Atlantis, Paradise Island, after acquiring it in 1994, and owned the One&Only luxury resort chain. He sold the Atlantis resort to Brookfield in 2012 and retired from the hotel industry last year.
Read more: The (Nassau) Tribune.