With the New Year underway, the first ICONs have now been registered, setting a positive tone for this investment funds product that was launched at the end of 2014 by the Bahamas Financial Services Board (BFSB) and the Ministry of Financial Services.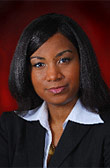 ICON — properly known as the Investment Condominium — was one of the focal points of BFSB's work last year. According to CEO and Executive Director Aliya Allen (right) the priority that BFSB placed on the product's development and introduction reflects the success that can be achieved through a combination of relationships with international advisors, strategic product innovation, public and private sector partnership, and aggressive promotion. "The ICON is a unique tool allowing participants to agree to invest collectively and to become registered as an investment condominium, while recognizing that once the ICON is formed and registered the administrator or governing administrator of the ICON has the ultimate responsibility for governance and operations within the most robust statutory and regulatory framework. It is an extremely flexible arrangement both in governance and structure of participation interests."
Ms Allen continued, "There is no question that the financial services landscape is in what seems like an unprecedented period of continuous change and evolution. The ICON is a product of these conditions and its early acceptance and success demonstrates that the path we have chosen – one of innovation and highly targeted promotion – is the right one."
BFSB's 2015 marketing campaign includes a series of conferences, Bahamas Landfall events and advertising that all strategically focus on specific geographic regions to support historic business sources and increase business from emerging markets.
Product specific promotion focusing on ICON, trusts and wealth management, and insurance will also take a higher priority in the 2015 campaign to heighten awareness of these products and at the same time to underscore the depth of the jurisdiction's wealth and asset management capabilities.
"We have a very busy promotional calendar in 2015, especially in the first half of the year with events such as the sponsorship of a STEP Miami luncheon on March 19," said Ms. Allen. "That event is representative of the type of focus we place on getting in front of intermediaries and advisors who strongly influence high net worth individuals on their choice of wealth and asset management products. Our objective is to make them see why The Bahamas should clearly be at the top of their list."