When President of the People's Republic of China Xi Jinping met with Prime Minister Perry Christie last year they announced an agreement in principle that would allow The Bahamas to trade in Chinese currency.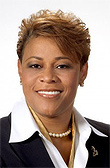 Presenting her contribution to the 2015 Budget Debate in the House of Assembly, June 3, Minister of Financial Services Hope Strachan said the opportunity to establish an RMB (yuan) centre in The Bahamas is a significant win for the country that would further cement its position as the leader in the region for financial services.
"It would also assist in increasing trade between China and The Bahamas and indeed the region by enabling China-Bahamas trade to be denominated in Chinese RMB and Bahamian dollars, rather than the current practice of using US dollars as the intermediate currency."
She said the benefits of this development include:
Currency exchange savings from direct bilateral transactions could increase China-Bahamas trade by hundreds of million dollars.
The Bahamas could extend RMB settlement services throughout the region.
Same-day or expedited currency exchange for time-sensitive transactions could be conducted, creating cost savings (ie exchange rates/time), increasing the overall convenience and efficiency of international BSD-RMB payment transactions.
Advantages for Bahamian importers who can now access a new market more readily for goods for prices quoted in RMB-BSD.
The creation of JOBS Mr. Speaker, through settlement centre operations, ancillary financial services, and indirect job creation through increased trade and investment with China.
Positive impacts on goodwill, business cooperation, trade and investment between China and The Bahamas.
Minister Strachan said the People's Republic of China is one of the world's largest economies, which seeks to make its currency more international by partnering with countries around the world.
"Already China has announced plans for the China International Payment System (CIPS) to process cross-border yuan transactions which is scheduled to be launched in the fall and become fully operational by the end of year."
She added that a yuan trading hub will support a more competitive financial sector, result in direct trade benefits, encourage more investment in The Bahamas, and strengthen commercial and diplomatic relations with China.
"As The Bahamas seeks to broaden its base of trading partners beyond the United States, building the reach and expertise of its financial sector in emerging economies such as Brazil, Mexico and China is critical."