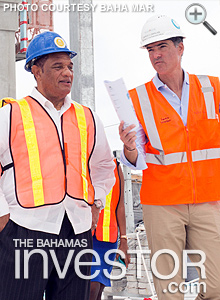 Prime: Prime Minister Perry Christie (left) and Baha Mar chairman & CEO Sarkis Izmirlian tour the Baha Mar Casino and Hotel, September 1. (Photo courtesy Baha Mar)
Prime Minister Perry Christie along with members of his Cabinet toured Baha Mar yesterday with the luxury resort's chairman and chief executive officer, Sarkis Izmirlian.
Christie toured the site accompanied by: Minister of Youth, Sports and Culture Dr Daniel Johnson; Minister of Tourism Obie Wilchcombe; Minister of State for Investments Khaalis Rolle; director of investments in the Office of the Prime Minister Candia Ferguson; and senior policy advisor Sir Baltron Bethel.
The group got a first-hand glimpse of the many amenities that will be available when the resort opens in late spring of 2015, including the 100,000 sq ft casino, beach sanctuary and Jack Nicklaus Signature Golf Course.



Prime Minister Christie said he was "greatly impressed" by the progress being made and commended Izmirlian on the execution of his vision of the multibillion dollar resort.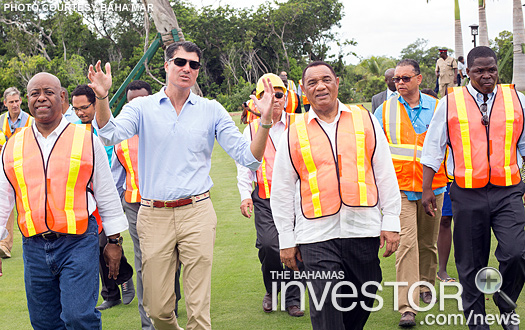 Pictured: Government ministers tour the Jack Nicklaus Signature Golf Course at Baha Mar, September 1. Pictured in foreground: (from left) Minister of Tourism Obie Wilchcombe; Baha Mar chairman & CEO Sarkis Izmirlian; Prime Minister Perry Christie; and Minister of State for Investments Khaalis Rolle. (Photo courtesy Baha Mar)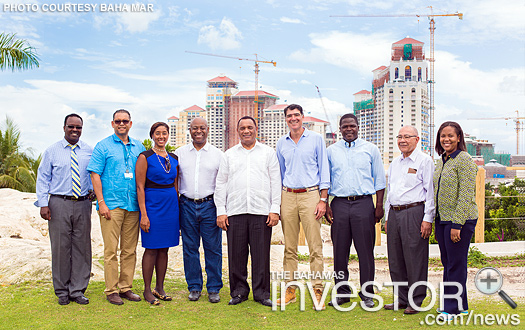 Pictured: (from left) Minister of Youth, Sports & Culture Dr Daniel Johnson; Baha Mar senior VP of administration & external affairs Robert Sands; director of investments in the Office of the Prime Minister Candia Ferguson; Minister of Tourism Obie Wilchcombe; Prime Minister Perry Christie; Baha Mar chairman & CEO Sarkis Izmirlian; Minister of State for Investments Khaalis Rolle; senior policy advisor Sir Baltron Bethel; and Baha Mar government affairs & compliance counsel Viana Gardiner. (Photo courtesy Baha Mar)