Source:
Date:
Updated:

CruiseWeb.com
Thursday, January 30, 2014
Thursday, January 30, 2014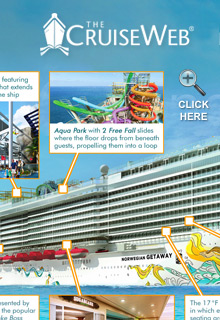 We think you are about to fall in love. We've found a girl who's accommodating, she's entertaining, she's full of magic and most of all she's the perfect ship. Yep, that's right, we are talking about a cruise ship, but not just any ship – we're talking about the Norwegian Getaway. Making her debut later this month, she's the latest and greatest vessel to sail the seven seas.
It's time to get excited for the Getaway by learning about all her spectacular features. The cruise experts at The Cruise Web have created an infographic guide, Getting Inside the Getaway, to illustrate the unique features of the 4,000 passenger Norwegian Getaway.
The Getaway will be based in Miami, one of the most popular cruise ports in the world. To honor this international hot spot, Norwegian Cruise Line incorporated a sun-soaked South Beach vibe into the Getaway. This is apparent when you first see her with the image of a mermaid on her hull, designed by Miami muralist David "LEBO" Le Batard.

Amongst the 16 dining venues you'll find The Flamingo Bar & Grill where pulled pork, flan and guava turnovers are always on the menu. You can also get the party started with a smooth mojito at the Sugarcane Mojito Bar on deck 8.
Check out this info graphic to learn about:
The GRAMMY® Experience where GRAMMY winners and nominees will perform during each sailing
The 787-seat theater where Elle Woods and her dog Bruiser take center stage to perform Legally Blonde: The Musical
The riveting AquaPark, featuring a whopping five waterslides
The spectacular fireworks show that comes with every sailing
The Illusionarium, an out-of-this-world space with a video screen on the domed ceiling
Problems viewing the graphic? Click here.