Source:
Date:
Updated:

Breezes Bahamas
Friday, January 31, 2014
Friday, January 31, 2014

For more than 30 years, Breezes Bahamas Resort & Spa, located on the powder white sands of Cable Beach in Nassau, has been making destination wedding dreams come true by allowing couples to tailor a variety of packages and Island Inspiration themes for a wedding that best fits their personalities – all while keeping budgets in check. Now, Breezes has made their Dream Weddings even more convenient and affordable by waiving all related government and administrative fees on behalf of every happy couple.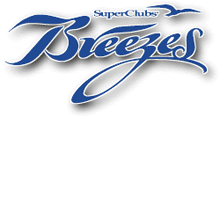 Breezes' complimentary Endless Love wedding package includes a Dream Wedding Planner who attends to every detail, a classic wedding cake, minister or marriage official, marriage license, bouquet and boutonniere, champagne, music and deco-rations, four guests passes, online bridal registry, and a few wedding keepsakes. Every wedding also includes a choice of five colorful Island Inspirations themes (aqua, tropical, seashell, flora and blossom) to set the tone for the Big Day.
Two-tiered upgrades with special trimmings, upgraded floral accents, enhanced decor and more are available. In addition, brides and grooms who have family and friends booking five or more rooms to join the celebration will enjoy the sixth room for free.
New Complimentary Add-Ons
Building on their years of wedding planning expertise, Breezes Bahamas has announced even more personalized wedding options that allow couples to introduce a traditional element to their beach ceremony. Upon request, three new complimentary features can be added to any package:
Sand ceremony: a symbolic blending of two different-colored sands into a single vessel.
"Jumping the broom": an African-American tradition stemming from the days of slavery where the new couple jumps over a broom together, symbolizing the start of their new life.
Unity candle lighting: The unity candle is lit by the bride and groom from two separate family candles, representing the union of families and the creation of new family of their own.
New Online Dream Wedding Optimizer
In a further effort to make wedding planning as stress-free as possible, Breezes has launched an online Dream Wedding Optimizer. Now couples have the ability to select their date and time, wedding package and theme, and upgrades/extras conveniently on Breezes Bahamas' website. Here they can also set up and manage their honeymoon registry, if they so wish.
"We want to give more couples the opportunity to experience a truly magical destination wedding by Breezes" added Muna Issa, vice president operations of SuperClubs. "To do that, we'll gladly cover these additional fees on behalf of every happy couple as part of our wedding gift to them and our ongoing commitment to happily every afters."
Breezes Bahamas Resort & Spa
Breezes Bahamas, the first and only Super-Inclusive resort in The Bahamas, sits on legendary Cable Beach where guests can sink their toes into the white sand under the Caribbean sun. The beachside resort boasts activities ranging from rock wall climbing, tennis, and beach volleyball to kayaking and wind-surfing. Guests can also indulge in relaxing spa treatments at the à la carte Blue Mahoe Spa. At night, adults can enjoy a lively piano bar which stays open until the last person leaves, or they can take their chances at one of the many nearby casinos. For young adults, the resort prepares activities throughout the day and the evenings such as local Bahamian performances, games and more to keep them entertained. The resort welcomes singles, couples and families with children age 14 and older.
Breezes' "Super-Inclusive" concept offers the best vacation value. Make a single payment for accommodations, all meals, and multiple dining options including Continental, Italian, and authentic regional cuisine, unlimited premium brand drinks, myriad land and water sports including equipment and instruction, entertainment, weddings, recreational activities and hotel taxes. Gratuities are included.
UPDATE — Feb 13, 2014:
Breezes Bahamas celebrates Valentines Day with deal for destination wedding couples.