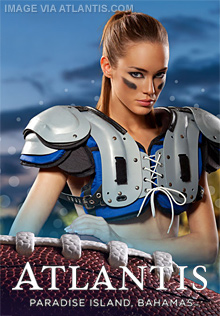 PARADISE ISLAND, Bahamas, Jan. 29, 2014 /PRNewswire/ — Renowned casino resort Atlantis, Paradise Island in The Bahamas and CG Technology™, a preeminent technology company, are pleased to announce that sports wagering enthusiasts visiting the island can wager on the 48th Annual Championship Football Game at the Atlantis Race & Sports Book, powered by CG Technology. This is the first time CG Technology's advanced wagering systems will be available in The Bahamas for wagering on the big game.
Hotel guests can place wagers on the game inside the Atlantis Race & Sports Book. On the day of the game, in addition to the Atlantis Race & Sports book, guests will be able to enjoy watching the game from several bars across the resort. Visitors can also purchase tickets for Atlantis' Big Game Party.
Atlantis patrons will also be able to wager using CG Technology's mobile sports wagering application on their Apple® or Android™ device, or on their wireless enabled personal computing devices, including tablets and smart phones, with CG Technology's Wi-Fi enabled sports wagering solution.

George Markantonis, President and Managing Director of Atlantis, Paradise Island said: "We are excited to welcome visitors to the Atlantis Race & Sports Book for the big game. I am confident our guests will immensely enjoy the event from our stunning luxury resort destination."
About Atlantis, Paradise Island resort, The Bahamas
Atlantis, Paradise Island is a unique, ocean-themed destination located on Paradise Island, The Bahamas, and features a variety of accommodations, all built around a 141-acre waterscape comprised of over 20 million gallons of fresh and saltwater lagoons, pools and habitats. Home to the largest open-air marine habitat in the world, there are over 50,000 marine animals in lagoons and displays, including The Dig, a maze of underwater corridors and passageways providing a journey through ancient Atlantis. Atlantis is home to Aquaventure, a non-stop water experience consisting of thrilling water slides, a mile-long river ride with high intensity rapids and wave surges, and never-before-seen special effects. Dolphin Cay, the resort's interaction and education center, was created with the goal of enlightening visitors about the wonders of these remarkable ocean inhabitants.
The Cove Atlantis, a 600-room resort, features oversized rooms with a step down living space, spectacular designs by acclaimed interior architects Jeffrey Beers and David Rockwell, unprecedented services and amenities, private all-adult and family pools, lavish cabanas and breathtaking views of the ocean. Atlantis is also known as THE culinary destination in The Caribbean with a collection of restaurants from world-renowned chefs including Nobu Matsuhisa, Jean-Georges Vongerichten, Bobby Flay and Todd English. The resort boasts an impressive collection of luxury boutiques and shops, casino, and the largest conference center, meeting and convention facilities in The Caribbean.
For further information about Atlantis, Paradise Island; call 954-809-2000 or visit Atlantis.com. For reservations, call your travel agent or 800-ATLANTIS.
About CG Technology™
CG Technology, formerly known as Cantor Gaming, is a preeminent technology company providing innovative technological products serving the worldwide gaming industry. CG Technology provides private networks, systems, operations, management services, system licensing, and hardware and software design and development. In addition, CG Technology develops casino games with web hosting platforms for casinos. As the first company licensed by the Nevada Gaming Commission to manufacture, distribute and operate a mobile gaming system in the state, it is also a leader in providing mobile gaming technology for casino-style games, and mobile sports wagering technology in the state of Nevada and internationally, via Android™ and Apple® compatible applications, as well as comprehensive account-based systems for race and sports books.
Outside of the U.S., CG Technology has licensed its sophisticated mobile gaming and race book and sports pool systems, as well as risk management consulting services, to Atlantis, Paradise Island in the Bahamas. In addition, CG Technology has an agreement with Celebrity Cruises to offer its innovative mobile gaming technology on a selection of high-end Celebrity Cruises ships, marking the first time the cruise industry has offered customers a mobile casino gaming application. CG Technology is passionate about applying best-in-class technology to offer customers a unique, innovative and memorable gaming experience.