Source:
Date:
Updated:

Silver Airways
Wednesday, May 7, 2014
Wednesday, May 7, 2014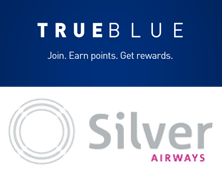 FORT LAUDERDALE, Fla., May 2014 (GLOBE NEWSWIRE) — Silver Airways, which offers flights between more Florida cities than any other airline and more flights between Florida and The Bahamas than any other U.S. airline, and JetBlue, New York's Hometown Airline™, have expanded their partnership. Effective immediately, JetBlue has added Silver Airways as a TrueBlue frequent flyer partner, allowing travelers the opportunity to earn TrueBlue points on Silver's extensive network of flights throughout Florida and The Bahamas.
In addition, travelers can now also book connecting flights between Silver Airways and JetBlue via jetblue.com.

"Expanding the partnership between our two award-winning airlines is great news for travelers," said Silver Airways President and CEO Davie Pflieger. "In addition to continuing to take advantage of Silver's extensive offering of popular flights throughout Florida and The Bahamas, and convenient connecting flights with JetBlue, now you also have the added benefit of earning TrueBlue points as well."
"We continuously work to improve our TrueBlue offering and introduce more opportunities for our members. We are therefore pleased to welcome Silver Airways to our TrueBlue family," said JetBlue's President Robin Hayes. "Silver Airways' route network complements JetBlue's network, providing our customers with greater access to destinations in Florida and The Bahamas, all while earning TrueBlue points."
Silver Airways and JetBlue launched their interline partnership in December 2013, allowing travelers to easily connect between the carriers' networks via Fort Lauderdale, Orlando, Tampa and Fort Myers. The interline agreement is bringing many new Florida and Bahamas destinations within reach for JetBlue's customers, including Key West, Pensacola, Tallahassee, Gainesville, Bimini, Grand Bahama (Freeport), the Eleutheras (Governor's Harbour and North Eleuthera), the Abacos (Marsh Harbour and Treasure Cay), and Great Exuma (George Town). Meanwhile, travelers from Silver's destinations in Florida are also benefiting from easy interline access to JetBlue destinations across the U.S., including Austin, Texas; Boston; Los Angeles; New York; San Francisco; and Washington, DC; as well as cities across Latin America and the Caribbean.
Since launching its own silverairways.com website and stand-alone Sabre reservation system less than a year ago, Silver has continued to develop its diverse portfolio of airline interline agreement partnerships which has grown to seven carriers, providing customers convenient connections to destinations throughout the U.S., Bahamas and other international destinations. Silver now has interline agreements with JetBlue, American Airlines, Delta Air Lines, US Airways, Bahamasair, Hahn Air, and All Nippon Airways. These partnerships are in addition to Silver's longstanding codeshare and frequent flyer partnership with United Airlines.
About Silver Airways
Silver Airways Corp. (IATA: 3M) is a U.S. owned and operated airline operating approximately 170 daily scheduled flights to/from 38 destinations in Florida, The Bahamas, Georgia, Alabama, Mississippi, Virginia, West Virginia, Pennsylvania, New York and Ohio. Silver offers flights between more Florida cities than any other airline and more flights between Florida and The Bahamas than any other U.S. airline, and has valued partnership and codeshare agreements with United Airlines and interline agreements with American Airlines, Delta Air Lines, JetBlue, US Airways, Bahamasair, Hahn Air, and All Nippon Airways.
Silver is a 2013 two-time award winner, having been recognized by its industry and the traveling public. In February 2013, it was named the recipient of Air Transport World's (ATW) 2013 Regional Airline of the Year Award, the first U.S. airline to win regional aviation's top honor since 2008. This award recognized Silver's outstanding achievements, as well as the company's contributions toward elevating the entire regional aviation industry overall. In October 2013, Silver was named one of the Top 10 "Best U.S. Airlines" in the prestigious Condé Nast Traveler's 26th annual 2013 Readers' Choice Awards.
The Silver fleet is comprised of 28 Saab 340B Plus aircraft (with a capacity of 34 passengers), each powered by highly reliable, fuel-efficient GE jet-turbine propeller engines. The airline also operates a small number of Beechcraft 1900D aircraft (maximum seating capacity of 19 passengers) in the airline's Cleveland network.
Silver Airways is privately owned by Victory Park Capital, a Chicago-based investment firm that launched the airline in May 2011.