More than 150 people attended the recent Bahamas Chamber of Commerce and Employers' Confederation's (BCCEC) annual mix and mingle to meet Arnold Donald, president and CEO of Carnival Corp.
Donald has steered the massive cruise line company for less than two years, sailing through challenges to emerge as a $33-billion corporation with nine cruise ship brands and 121,000 employees.
Donald's visit to The Bahamas, along with other Carnival execs, was arranged by the American Embassy.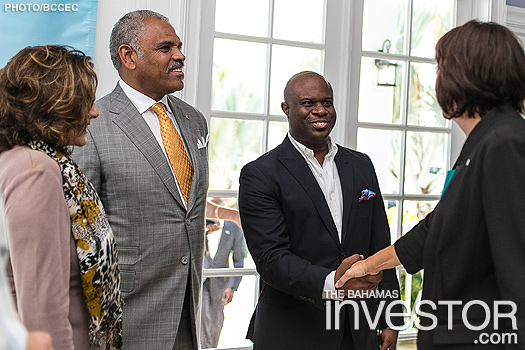 Chamber of Commerce CEO Edison Sumner welcomes Lisa Johnson, Charges d'affaires at the American Embassy, to the VIP event at Palm Cay. Pictured: (left to right) Diane Phillips, pr executive; and Arnold Donald, President and CEO Carnival Corp; Sumner; and Johnson. (Photo courtesy BCCEC)
Donald used the occasion at the Billfish Grill at Palm Cay to remind the audience and media of the company's role as the number one provider of visitors to the country–including 95 per cent of all cruise passengers to Grand Bahama and 65 per cent to Nassau, but he also urged care and attention to costs, security and overall visitor experience.
Recognized as one of the top 50 most influential black executives in America, Donald got his first taste of the cruise business as a passenger as a young man. After heading up numerous other successful businesses and serving on presidential, hospital and university boards, he took over the reins of the world's largest leisure cruise business in June 2013 from Micky Arison who continues as chairman.
Sponsors for the event included Bahamas First, BTC, Callenders, John Bull, NUA and Palm Cay. BTC president Leon Williams, who also addressed the crowd, announced the telecommunications company would soon introduce mobile TV to the Bahamas market.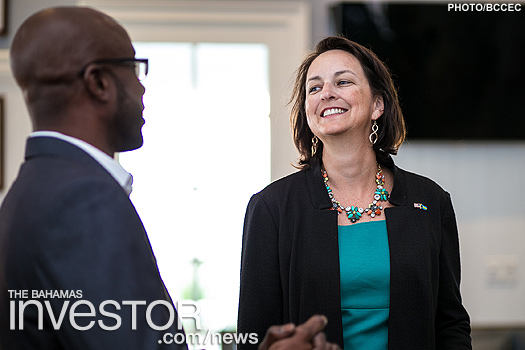 American Embassy Charges d'affaires Lisa Johnson greets colleague Hank Ferguson at the Bahamas Chamber of Commerce mix and mingle at Billfish Grill at Palm Cay. (Photo courtesy BCCEC)