Luxury watch maker Breitling recently revealed its new collection directly from Switzerland at an invitation-only event for its Bahamian clientele at the Nassau boutique outlet.
"The Bahamas, though small in population relative to many of our markets, has an incredibly sophisticated and discerning population that appreciates fine workmanship and true quality," said Mauricio Diaz, vice president, Breitling Caribbean.

"Being one of 44 Breitling boutiques worldwide, and the first in the Caribbean [region], the Nassau boutique has always been central in all new product launches coming from the annual Basel show in March in Switzerland. We are so excited to share the new Runway 2015 collection with The Bahamas and the world."
The event was held at the Breitling Boutique on Bay Street.
Guests included Khaalis Rolle, Minister of Investments; Dr Hubert Minnis, Leader of the Loyal Opposition and senator Carl Bethel, QC.
Other local business, civic and community leaders and friends also attended the launch event.
"Breitling's reputation for Swiss perfection in technical watches and its link to other symbols of precision performance have managed to capture and hold the public's imagination, making invitations to unveilings like this one in Nassau one of the events of the year," said Diaz.
"I believe the fact that it is one of the last remaining family-owned independent Swiss watch brands adds to the appeal and mystique."
Pictured: Khaalis Rolle, Minister of Investments (left) and Dr Hubert Minnis, Leader of the Loyal Opposition at the launch. (Photo courtesy Breitling)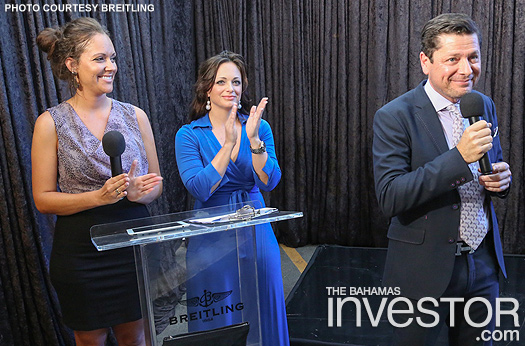 Pictured: Mauricio Diaz, vice president, Breitling Caribbean, (right) welcomes guests to Breitling's Runway 2015 launch held recently at the Nassau boutique. Also pictured are Stephanie Monsanto, brand manager (left) and Lindy Nanni, boutiques retail manager at Breitling Caribbean. (Photo courtesy Breitling)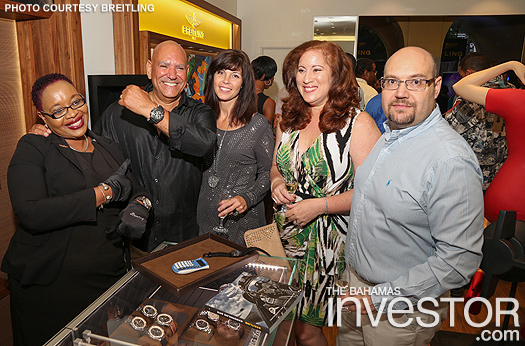 Pictured: Guests view the merchandise at the launch event. (Photo courtesy Breitling)