Baha Mar has doubled the enrollment of its Leadership Development Institute (LDI) to more than 400 students–six of whom have intellectual and developmental disorders (IDD).
In May, 150 students graduated from LDI's first class. The following session of LDI saw enrollment increase to 162 students.
"Baha Mar is a transformative project that is making a real difference in The Bahamas," said Baha Mar chief operating officer Paul Pusateri. "This unprecedented programme is touching lives and making it possible to provide chances for a career in hospitality that may have otherwise been out of reach."

Through a partnership with Best Buddies International, LDI is also allowing individuals with IDD the same chances to succeed as other employees. Each IDD student has been paired with a 'student buddy' in LDI for the duration of the 16-week class session.
During the class sessions, LDI students will learn functional and technical skills, service skills, leadership training and life skills, part of LDI's overall vision to create opportunities for all Bahamians, including those with unrealized potential.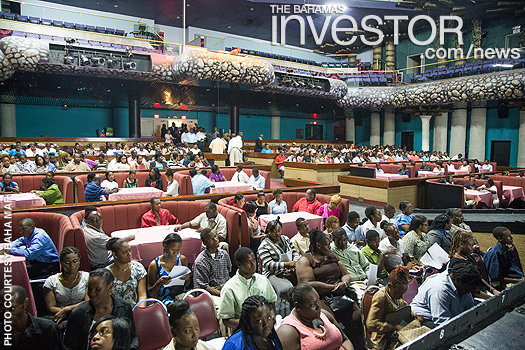 Pictured: Newly enrolled students attend the opening session of the LDI training programme, Nassau July 21, 2014. (Photo courtesy Baha Mar)