Six weeks ago, fifteen college students began the Dream Team Summer Associate Internship programme at the Baha Mar resort development.
The internship emphasized personal branding, professional development, networking, collaborative skills and workplace productivity.

The summer associates worked with Baha Mar employees to tackle projects according to their areas of study or professional interest including marketing, human resources, law, engineering/operations, finance, and information technology.
These projects included researching aspects of key gaming resorts around the world, and analyzing the effect of VAT on the hospitality industry.
The students also documented their experience on social media by writing blogs and by producing "Project Intern" – a behind the scenes video about the internship.
At the conclusion of the programme, the interns presented their project findings and shared their experience at the company with the Baha Mar team.
Sarkis Izmirlian, chief executive officer of Baha Mar, says: "I was very impressed with how eager they were and I think it bodes well for the future of The Bahamas. You have these smart, engaged young men and women who work very hard for six weeks and who are eager to participate in what we are trying to do."
"Our objective was to develop these outstanding students personally and professionally," adds Kristin Wells, director of Baha Mar Academy. "Based on the outstanding performance and personal bonds formed within the group, we were successful."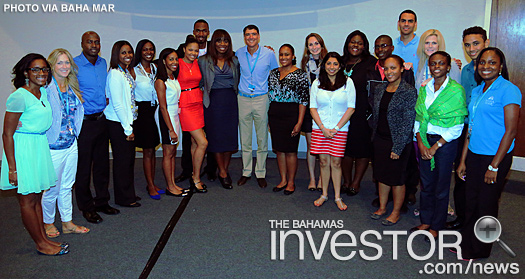 Pictured: Baha Mar CEO Sarkis Izmirlian congratulates college students on the final day of their internship. (From left) Tara Bastian, project assistant to the Baha Mar CEO & Baha Mar president; Kristin Wells, director, Baha Mar Academy; Brad Miller, summer associate intern; Vonya Ifill, Baha Mar associate; Candice Knowles, summer associate intern; Phyllisa Barnes, summer associate intern; Khiry Adderley, summer associate intern; Keith Miller, communications associate; Cheiwah Ferguson, summer associate intern; Sarkis Izmirlian, Baha Mar CEO; Cecily Dean, summer associate intern; Brittany Brownrigg, summer associate intern; Meera Gulati, summer associate intern; Katherine Beneby, summer associate intern; Moses Pierre-Paul, summer associate intern; Stacie Thompson, summer associate intern; Michael Rodgers, summer associate intern; Anne Williams, vice president, Workforce Planning & Development; Delia Ferguson, summer associate intern; Donovan Harding, summer associate intern; Lashanta Smith, Baha Mar recruitment supervisor. (Photo via Baha Mar)