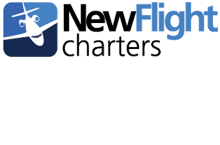 Club New Flight has taken off, from nationwide premier jet charter leader New Flight Charters. Club members can take advantage of special member charter discounts, complimentary ground transportation and custom catering, and advance information on special pricing and new charter aircraft.
In addition members receive current lists of upcoming attractive empty leg specials. The current featured empty legs list includes the Top 50 empty flights in July and August.

Not the typical 30-60 minute empty positioning flights, the Top 50 are desirable empty legs from popular metro areas such as South Florida, Chicago, New York and Southern California to attractive and popular locations and resort communities including Jackson Hole, Aspen, Hawaii and the Bahamas at literally the best private flying rates available, outside of owning your own aircraft.
Club New Flight is unique; New Flight Charters boasts the largest proprietary listing including every FAA charter aircraft in the U.S. – over 8,900, and can offer premier aircraft, pricing and flight opportunities simply not available with other services.
It is one reason New Flight Charters is the fastest growing private jet service in the U.S. since 2005 as now named to the Inc. 500/5000 four consecutive years.
Free to join, Club New Flight takes only an email address to get started, and is completely confidential.
About New Flight Charters
New Flight Charters is an award-winning private jet charter leader nationwide. With the largest proprietary listing of every FAA certified charter aircraft, New Flight Charters arranges top-rated operator aircraft with its Best Price Guarantee for every flight. The company in 2012 was the most recommended company by jet charter professionals from the world's largest charter industry marketplace, and its Charter Management Team is considered one of the top teams in the U.S.
Flights arranged by New Flight Charters have a perfect safety history. The company recently published FIVE QUESTIONS FOR YOUR AIR CHARTER SERVICE, to help private fliers ensure a quality and reputable organization is handling their private charter flights. It is available for free download at NewFlightCharters.com.
For the latest updates and information, call (800) 732-1653 or visit NewFlightCharters.com.