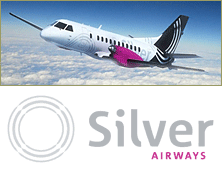 FORT LAUDERDALE, FL–(September 5, 2013)–Silver Airways is providing more travel destination options to its Florida customers with the addition of exciting new international destinations and enhanced domestic air travel options beginning November 21, 2013.
The carrier will launch new nonstop service from West Palm Beach to North Eleuthera and Freeport in The Bahamas, two nonstop flights each weekday between Orlando and Tallahassee, and two nonstop flights each weekday between West Palm Beach and Orlando that will give business and leisure travelers the only nonstop service between West Palm Beach and Orlando.

"This latest expansion in our operations is all about better serving the broader needs of our customers here in Florida," says David H Pflieger Jr, president and chief executive officer of Silver Airways.
"Within the state, we're improving connectivity from north to south and extending our reach to The Bahamas. At the same time, we're better aligning our service to sync most efficiently with United Airline's global reach so Silver Airways customers can reap the full benefits of our codeshare partnership."
Silver Airways will deploy Saab 340Bplus aircraft on its new routes. Silver operates the largest fleet of 34-seat Saab 340Bplus aircraft in North America.