Source:
Date:
Updated:

Silver Airways
Thursday, June 12, 2014
Thursday, June 12, 2014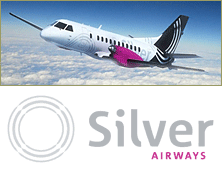 FORT LAUDERDALE, Fla., June 2014 (GLOBE NEWSWIRE) — While flying has become crowded and tiring on many airlines, there is still one airline that offers guests the opportunity to depart from ordinary and enjoy the nostalgic experience of flying like movie stars of the 50s aboard its fleet of 34-seat Saab 340B Plus aircraft. Silver Airways is that airline, as it provides an elevated flying experience that largely avoids crowded gates, overbooked flights and mundane destinations.
This week marks the one-year anniversary of Silver Airways' launch as an independent airline. On June 8, 2013, Silver launched its own independent customer reservation system and Internet site, and one year later Silver has grown its Florida and Bahamas network to offer flights between more Florida cities than any other airline and more flights between Florida and The Bahamas than any other U.S. airline.

"As we celebrate this important milestone, I want to thank all of our loyal and valued guests in Florida, The Bahamas and beyond that we have been privileged to serve, as well as all of our Silver team members who work diligently to offer our guests the best possible experience each and every day," said Silver's President and CEO David Pflieger. "We are dedicated to giving our guests the opportunity to depart from ordinary and return to the nostalgic experience of flying of the past with our convenient, personalized service to a variety of popular destinations throughout Florida and The Bahamas."
To show its appreciation to its guests, the airline has launched its "Silver Days Giveaway," offering travelers the chance to win a pair of roundtrip tickets every day for 30 days, from June 9, 2014 through July 8, 2014. The tickets are good for any of Silver's flights in Florida and The Bahamas. Visit SilverDaysGiveaway.com to participate and for complete details.
In addition, Silver is offering one of its biggest sales ever with fares from $19* (one way, including taxes and fees) through 11:00 am ET on Wednesday, June 11, 2014, for nonstop travel between June 14, 2014 and December 17, 2014. For complete details, reservations and to receive email updates on Silver's special offers, visit silverairways.com.
Silver offers flights to 10 destinations throughout its extensive Florida network, including Pensacola, Tallahassee, Jacksonville, Gainesville, Orlando, Tampa, Fort Myers, West Palm Beach, Fort Lauderdale and Key West, as well as flights to seven Bahamian destinations, including Bimini, Grand Bahama (Freeport), the Eleutheras (Governor's Harbour and North Eleuthera), the Abacos (Marsh Harbour and Treasure Cay), and Great Exuma (George Town).
In addition, Silver's connections offer the ease and convenience of seamless booking, ticketing and baggage handling through its valued partnership and codeshare agreements with United Airlines and interline agreements with American Airlines, Delta Air Lines, JetBlue, US Airways, Bahamasair, Hahn Air, and All Nippon Airways.
Members of United's MileagePlus® customer loyalty program can also earn and redeem frequent flyer awards for travel throughout Silver's entire network in addition to connecting flights on United.
Through its partnership with JetBlue, guests can also book convenient connecting flights at jetblue.com and earn TrueBlue frequent flyer points on Silver's flights throughout Florida and The Bahamas.