Baha Mar is currently conducting a series of meetings with key officials from a cross-section of governmental ministries, providing tours of the construction site followed by discussions about the progress of Baha Mar and its impact on the community.
Most recently, Bernard Nottage, Minister of National Security and Senator Keith Bell, Minister of State in the Ministry of National Security, together with the Heads of National Law Enforcement Agency (HONLEA) were guests of Baha Mar.

In addition to the site tour, the group received first-hand updates about Baha Mar and pledged its unified support during a lunch discussion about security in and around the luxury resort.
Robert Sands, senior vice president of administration and external affairs at Baha Mar, stated: "Baha Mar and our partners at the Ministry of National Security and at HONLEA are equally committed to ensuring that guests of Baha Mar enjoy a safe experience and, ultimately, that the project is a successful chapter in the future of The Bahamas."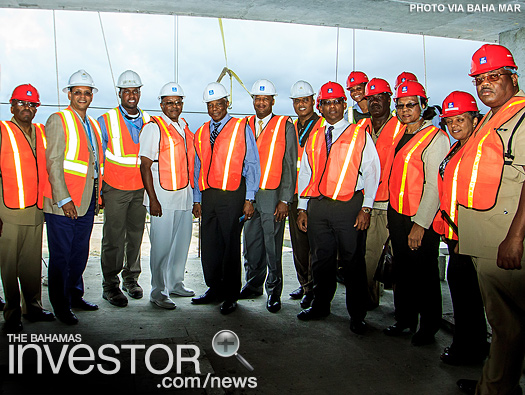 Pictured: (from left) Quinn McCartney, deputy commissioner of police; Robert Sands; Alex Haley, project coordinator, Baha Mar; Roderick Bowe, commodore, Royal Bahamas Defense Force; Bernard Nottage, Minister, National Security; Keith Bell, Minister of State, National Security; Marvin Dames, vice president, security, Baha Mar; Carl Smith, permanent secretary, Ministry of National Security; Karen Rigby, deputy permanent secretary, Ministry of National Security; Barbara Turnquest, executive officer, Ministry of National Security; Leon Bethel, assistant commissioner of police. Also pictured are the aides to the Ministers, staff officers of the deputy commissioner and the commodore. (Photo via Baha Mar)