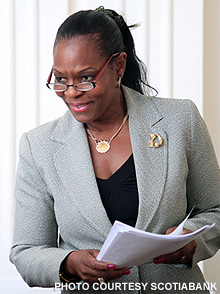 Scotiabank recently presented its signature revamped Scotia Professional Plan (SPP)–a suite of flexible banking products created especially for business and healthcare professionals.
The SPP is a customizable selection of products that are bundled and tailored based on customer's unique banking and lending needs. The product includes day-to-day banking, borrowing products and financing solutions packaged with reduced fees.
In an effort to educate the market on the plan, Scotiabank's small business sales leader, Debra Wood, recently presented SPP to local professional groups including the Bahamas Bar Association and the Organization of Young Professionals .
"Scotia Professional Plan offers a customized financial package that includes everything needed to manage a successful business, with reduced monthly fees," she said.

"We partner with professionals to simplify day-to-day transactions and provide on-line expense management tools."
Underscoring the Bank's commitment to the professional market, managing director Kevin Teslyk said: "We at Scotiabank are devoted to bolstering The Bahamas' entrepreneurs and professional practices by offering pertinent business advice and services to help them establish and expand their businesses. Financing through Scotia Professional Plan gives clients access to higher borrowing limits, up to 100 per cent financing for equipment and flexible repayment options."
Scotiabank's small business banking services also include tools to help entrepreneurs develop their business plans and manage their cash flow, he said.
"The bank is passionate about working with Bahamian small business owners to provide insights and tools to help entrepreneurs confidently manage their businesses at every stage. With SPP, we make money management easy and convenient so professionals can worry less about finances and focus on growing their business."