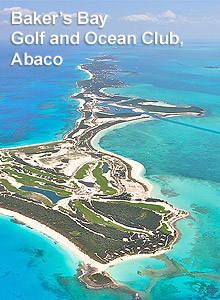 Prime Minister Perry Christie has said that Abaco continues to lead the way in the Family Islands as a thriving second-home location for international investors and Bahamians, providing construction, employment and business opportunities.
"This is an important element of the country's year-round tourism product in Abaco, as well as in other parts of the country," the Prime Minister said during his contribution to the 2012/2013 Mid-year Budget Statement in the House of Assembly March 18.
"Undoubtedly one of the finest luxury residential, golf and marina resorts in the entire Caribbean is Discovery Land Company's Baker's Bay Golf and Ocean Club, an anchor project, which I had the opportunity of approving during my first term in office."

"It has raised the profile of The Bahamas by attracting North American, European and other international financial, entertainment, sports and business leaders to live and play there with their families."
He said Baker's Bay Golf and Ocean Club is a viable entity, as it has invested to date some $385 million, and employs over 400 persons.
"Recently I had the opportunity of touring this environmentally sensitive and sustainable development to review their future plans, which over the life of the project will create a total investment of $2 billion. The project supports local contractors, suppliers, ferry service and other business."
Prime Minister Christie also noted that since June of last year, the government has continued to foster iconic tourism and second-home developments in the Exuma Cays.
"We have also focussed on initiatives to bolster resort property and economic development on the Exuma mainland, which has been less vibrant during the protracted recession than the Cays."
He said the larger mainland resorts where the majority of the population lives, face higher operating costs, staffing, training and airlift challenges.
"This has been particularly so for Sandals all-inclusive resort at Emerald Bay, where a much higher standard of services and multiple amenities have to be provided."
"This anchor resort with its major economic impact on Exuma has direct and indirect spinoff benefits on other resorts, entrepreneurs, multiple businesses and community projects. The government, through the Office of The Prime Minister, the Ministry of Tourism, the Ministries responsible for Immigration, Labour & Training, is working cooperatively with Sandals in a partnership arrangement to address these issues with positive and encouraging results."
He said the improvement of the channel entrance and conditions at the Emerald Bay Marina are in his view, essential to achieving positive economic benefits for adjacent resort and property developers, as well as the Exuma community.
The owner of Sandals, at Prime Minister Christie's request, carried out engineering studies at the marina, which revealed that the substantial corrective work would be costly.
The Prime Minister said, "My Office is therefore entering into discussions with Sandals and surrounding property owners on a cooperative effort to successfully address this situation."
Over the last 10 months, Sandals has been doing something unique as far as major resorts in The Bahamas is concerned, in expanding and bringing more of their offshore specialized corporate marketing, public relations, sales, accounting and IT operations to The Bahamas.
This is already resulting in the exposure and training of an increasing number of Bahamians in specialized skills. The Office of the Prime Minister and the Ministers responsible for Tourism, Immigration and Labour are actively pursuing with Sandals suitable arrangements for further expansion of this corporate facility."
Prime Minister Christie added that in Cat Island, San Salvador, Norman's Cay and Leaf Cay, negotiations are favourably advancing for additional resort developments which should commence by year end.