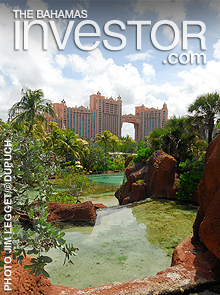 During the 2012/2013 Mid-year Budget Statement in the House of Assembly March 18, Prime Minister Perry Christie underscored the continued contribution made by Atlantis Paradise Island to the Bahamian economy.
He said the economic impact was far-reaching, employing 8,187 people directly, whilst also providing jobs and income in construction, retail, transportation, and wide range of goods and services.
"When factoring in the additional jobs being created by suppliers, service providers and contractors, Atlantis is responsible for the creation of a total of at least 16,000 direct and indirect jobs."
The Prime Minister said Atlantis' continued commitment to capital improvements and projects has resulted in a steady stream of construction related jobs and compensation.

"Over the past 12 months over $35 million has been spent on capital expenditures. Where construction is concerned, over $11 million was with local contractors providing over 260 jobs."
"The 2013 Capital Expenditure Budget has been established in the amount of $42 million. A significant amount of the construction will go to local contractors."
He explained that the resort has developed a strong partnership with the Bahamian community, exhibiting commitment to its social responsibility.
"Since 1993, over $27 million has been given to charities, park and green space development, beach restoration, Junkanoo, sporting organizations, and hunger programmes, training in culinary and hospitality, independence and hurricane relief at a rate in excess of $1.5 million per year.
The Prime Minister said: "As an industry leader, Atlantis is extending sports betting in its casino and has been given permission to introduce mobile gaming on its resort premises."
"Atlantis will be well poised to take advantage of the new cutting-edge games and revised, modernized casino legislation, which will be introduced in Parliament shortly, making The Bahamas more competitive with major casino jurisdictions."
Prime Minister Christe also updated Parliament on the Paradise Island Harbour Resort on Paradise Island.
"Recently my government approved the purchase of this hotel by the well-known Warwick Hotels, operators of businesses and resort hotels in the US, Europe and the Pacific. The new owners are now planning extensive renovations of this entire property, which should be completed by the winter season."
"We welcome this substantial new investment and the addition of the Warwick brand to our tourism product," the Prime Minister said.