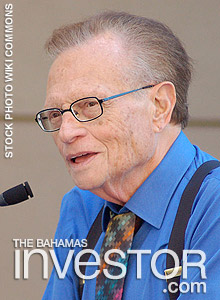 Nassau's Doctors Hospital expects to welcome more international patients as its innovative new treatment for prostate cancer features on the Discovery Channel's Larry King Profile Series.
The programme, which aired last month, shows a team of doctors performing High Intensity Focused Ultrasound (HIFU)—a minimally invasive procedure for prostate cancer that is not currently available in the United States.
Since 2008, more than 500 patients have undergone HIFU at Doctors Hospital which is hoping more international patients will make the trip as the breakthrough procedure gains attention worldwide.
Speaking to The Bahamas Investor last year, Doctors Hospital president Barry Rassin said he believed the hospital should pursue more avenues in this niche tourism sector, saying: "We see medical tourism as long term, as being 50 per cent of our business. We are a tourism destination so why not bring tourists here to enjoy the sun, sand and sea while they get their surgery?"
According to the Goodness Company, a medical tourism marketing agency based in the US and Costa Rica, the global medical tourism market is around $20 to $40 billion and growing by as much as 30 per cent each year. In 2012, it's estimated that around 750,000 Americans travelled abroad for healthcare.
The HIFU procedure featured on the Discovery Channel's In View with Larry King. Watch a clip from the episode here.