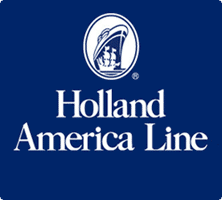 SEATTLE, Nov. 1, 2013 /PRNewswire/ — Holland America Line, a leader in premium cruising, once again earned top honors with eight 2013 Readers' Choice Awards from Porthole Cruise Magazine, one of the world's leading consumer cruise travel publications.
The awards include Best Alaska, Canada/New England and Central America Itineraries, Best Shore Excursions, Best Medical Facilities, Best Facilities for Physically Challenged Passengers, Best Private Island for Half Moon Cay and Best Private Island Cabana for Half Moon Cay, the line's exclusive island in The Bahamas.

"To be recognized by the well-traveled readers of Porthole Cruise Magazine in so many categories is an honor and testament to our dedication to providing an exceptional cruise experience," said Richard Meadows, executive vice president, marketing, sales and guest programs for Holland America Line. "We work continuously to enhance our offerings, whether it's adding beach villas at Half Moon Cay or introducing new Land+Sea Journeys in Alaska, and it's rewarding for our efforts to be recognized."
Porthole Cruise Magazine's Readers' Choice Awards are determined by thousands of the publication's readers who vote on their favorite cruise lines in a variety of categories.
"The readers of Porthole are well-traveled cruisers," said Bill Panoff, publisher and editor-in-chief of the magazine. "They value the premium cruise experience and diverse itineraries featured by Holland America Line year after year and it shows up in their choices."
Half Moon Cay: Best Private Island and Best Private Island Cabana
For the past 13 years, Porthole Cruise Magazine's readers have named Half Moon Cay the industry's Best Private Island. HalfMoon Cay is an idyllic playground for cruise guests and features a natural 700-acre lagoon, a Captain Morgan on the Rocks Island Bar, stingray encounter and fun-filled excursions for nature lovers and adventurous travelers alike.
The line also took the award for its exclusive cabanas that are available for guest rental. The 15 beach-front private cabanas and five two-story villas complete with air-conditioning, refrigerator, ceiling fan, deck chairs and a misting shower on the private terrace are ideal for a luxury getaway during the call. The villas also feature five-person hot tubs on the upper level and private sun decks.
Top Itineraries Earn Top Honors
In addition to winning the Best Shore Excursions award for its diverse and enriching selection of tours, Holland America Line maintained its leading position as the cruise line with the Best Alaska Itineraries. In 2014, the line will sail seven ships on unique itineraries highlighted by scenic cruising in Glacier Bay National Park, Hubbard Glacier and Alaska's famed Inside Passage. New Land+Sea Journeys combine a Holland America Line cruise with an overland tour to Denali National Park.
Holland America Line also received top honors from Porthole for its Canada/New England voyages, which explore the historic seaports and stunning fall foliage of the region. In 2014, Holland America Line will offer 48 cruises on three ships — ms Maasdam, ms Eurodam and ms Veendam — to ports along the eastern coast of North America.
Rounding out the honors garnered for top itineraries are the line's Central America voyages, a series of sailings that explore the region's natural beauty, indigenous cultures and full transits of the Panama Canal.
State-of-the-Art Medical Facilities and Facilities for Physically Challenged Passengers
Completing the awards, Holland America Line received recognition for its accessibility and medical facilities. Holland America ships accommodate guests with a variety of special needs and feature state-of-the-art shipboard medical facilities and equipment.
About Porthole Cruise Magazine
Established in 1993, Porthole Cruise Magazine is the world's leading cruise publication. The bimonthly publication's editorial emphasis is on cruise vacation information, ship reviews, news, popular ports of call and travel tips.
Porthole Cruise Magazine's annual Readers' Choice Awards are determined by thousands of the publication's readers who vote both online and via paper ballot on their favorite cruise lines in a variety of categories.
For more information about Holland America Line, contact a travel professional or call 1-877-SAIL-HAL (1-877-724-5425) or visit www.hollandamerica.com.
Find Holland America Line on Twitter, Facebook and the Holland America Blog. Access all social media outlets via the Online Communities quick link on the home page at www.hollandamerica.com.
About Holland America Line [a division of Carnival Corporation and plc. (NYSE: CCL and CUK)]
Holland America Line's fleet of 15 ships offers more than 500 cruises to 415 ports in 98 countries, territories or dependencies. One- to 110-day itineraries visit all seven continents and highlights include Antarctica, South America, Australia/New Zealandand Asia voyages; a Grand World Voyage; and popular sailings to ports in the Caribbean, Alaska, Mexico, Canada/New England, Europe and Panama Canal. The line currently has a new ship on order from Fincantieri shipyard for delivery inFebruary 2016.
Fleetwide, the company features Signature of Excellence enhancements, a commitment totaling more than $500 million, that showcase the Culinary Arts Center presented by Food & Wine magazine — a state-of-the-art onboard show kitchen where more than 60 celebrated guest chefs and culinary experts provide cooking demonstrations and classes — Explorations Cafe powered by The New York Times, Digital Workshop powered by Windows, teens-only activity areas and all new stateroom amenities highlighted by flat-panel TVs and plush Euro-top Mariner's Dream Beds.
World's Leading Cruise Lines
Holland America Line is a proud member of World's Leading Cruise Lines. Our exclusive alliance also includes Carnival Cruise Lines, Cunard Line, Princess Cruises, Costa Cruises and Seabourn. Sharing a passion to please each guest and a commitment to quality and value, World's Leading Cruise Lines inspires people to discover their best vacation experience. Together, we offer a variety of exciting and enriching cruise vacations to the world's most desirable destinations. Visit us at www.worldsleadingcruiselines.com.