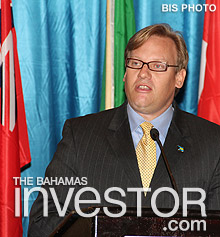 The Ministry of Financial Services officially launched its new trade policy yesterday, with Minister Ryan Pinder telling the Bahamas International Investment & Business Forum (BIIBF) that the government was committed to pursuing a "value added trade strategy."
The initiative involves bringing products into The Bahamas, adding value, and then exporting the goods.
Minister Pinder said the strategy would "provide the catalyst for sustainable economic growth in The Bahamas" and added that Freeport was ideally suited to take advantage of this, as it already has the infrastructure in place for manufacturing and other processes.
"Value added trade seeks to increase the value of a product at each stage of production," he said.

"[Freeport] sets us apart as a trade centre. The Bahamas logistics infrastructure already exists."
"These elements are combined with the government's pro-business regime. This is almost a perfect synergy."
The Minister also spoke of the need to develop deeper trade links with nations in the Caribbean.
"Facing a less than bullish economy, the government has acknowledged that new and innovative strategies must be pursued to reinvigorate the economy. These strategies must look beyond our borders."
This week a government delegation travelled to Haiti to discuss trade issues with the country, and The Bahamas also enjoys well-established links with the Dominican Republic, he added.
"This is a strengthening of economic ties between us and our neighbours and the building of trade networks," said Pinder.
In October 2011, The Bahamas fulfilled its concessions under the European Partnership Agreement (EPA), which gives Bahamian companies easier access to European markets, the Minister said, adding that this was an important step, praising the EPA for its role in encouraging trade.
"The EPA is the first multi-lateral reciprocal trade agreement of which The Bahamas is a part," he said.
"It creates the potential for exponential growth in trade, in particular the export of products that are made in The Bahamas. It will support and increase productive employment, expand the variety of products available and encourage direct investment in The Bahamas."
The Minister also spoke of The Bahamas plans to become a full member of the World Trade Organization (WTO) in the next few years, saying accession to the global trade body would "secure further market access for Bahamian goods and services and create additional beneficial networks throughout the world."
The BIIBF, which is hosted by the Commonwealth Business Council (CBC) in collaboration with the Grand Bahama Port Authority (GBPA) and the Bahamas Investment Authority (BIA), is being held in Freeport and runs through February 22.
cmorris@dupuch.com