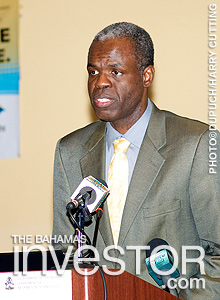 John Rolle, Financial Secretary, speaking at today's e-Government and Business Forum, Sheraton Hotel, Nassau Bahamas. (Photo ©Dupuch/Harry Cutting)
The government has committed to moving key functions online in a bid to streamline business in The Bahamas and ensure the jurisdiction retains its competitive edge.
Businesses and citizens were invited to attend an e-Government & Business Forum at the Sheraton, Nassau March 21, during which representatives from various government departments, including the Ministry of Finance and the Department of Information Technology, were on hand to answer queries and outline the government's strategy.
Financial secretary in the Ministry of Finance John A Rolle said that The Bahamas was slipping in the World Bank's Ease of Doing Business Report , which ranked the country as 77 out of 185 countries in 2013, and 71 in 2012. He noted that The Bahamas had to stay ahead of the curve to improve its score, saying: "It does not mean we are stagnant but it means we are not moving fast enough."

"[e-government] is key to improving how we deliver service and do business in The Bahamas. We must make it possible for citizens and businesses to reach government at their convenience," he continued.
"We hope that within the next three years we will have provided the necessary online services not only to reverse the downward trend, but to improve our ranking substantially and make The Bahamas a more competitive jurisdiction in terms of doing business."
Chief executive officer of the Bahamas Financial Services Board (BFSB) Aliya Allen echoed this, saying that international clients were accustomed to a high level of service and that the bar must be raised to meet this demand.
"There are very few industries that are as invested in having an efficient and effective framework for e-government as the financial services industry," she said.
"Our clients interact with every single government department. They have a certain expectation of service. They tend to be quite unforgiving. It is very important we not be found wanting as a jurisdiction."
She stressed that the BFSB was eager to see e-government implemented and The Bahamas becoming more modern in its approach. "We see this as being an important and integral part of The Bahamas improving its international competitive position," she said.
"I am very excited about the prospects for The Bahamas getting ahead of the curve in what is a really exciting space."
The forum also heard from Attorney-General Allyson Maynard-Gibson, director of the Department of Information Technology June Collie and representatives from the Bahamas Investment Authority (BIA) .
cmorris@dupuch.com