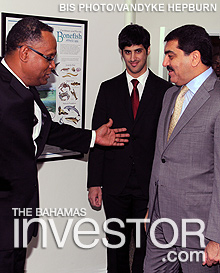 Pictured: Dr Michael Darville (left) extends a warm welcome to Mohamed Bin Abdulla Al-Rumaihi (right), Ambassador of Qatar and Special Envoy to The Bahamas. Also pictured centre is Fahad Ali Al-Nuaimi, third secretary, Embassy of the State of Qatar. (BIS Photo/Vandyke Hepburn)
FREEPORT, GRAND BAHAMA – Minister for Grand Bahama Dr Michael Darville officially welcomed Mohamed Bin Abdulla Al-Rumaihi, Ambassador of Qatar as Special Envoy to The Bahamas, November 21, 2013.
Ambassador Al-Rumaihi paid a courtesy call on Minister Darville at his office in the Harold DeGregory Complex.
In welcoming the Special Envoy, the Minister pointed out that his visit comes on the heels of a signing ceremony in August, where The Bahamas formally established diplomatic relations with Qatar at its Embassy in Washington, DC.

He said it was his understanding that diplomatic relations between The Bahamas and Qatar, a sovereign Arab state, had been sought since 2003 and the agreement was finalized by Minister of Foreign Affairs and Immigration Fred Mitchell during a visit to Qatar earlier this year.
The ambassador's visit today signifies Qatar's seriousness about and commitment to working with the government of The Bahamas, and with Grand Bahama Island, in particular, he said.
"As the Minister for Grand Bahama, I am happy that His Excellency's fact finding mission has led him to our shores, as Grand Bahama island has so much to offer in terms of tourism, trade, cultural exchanges and investment opportunities," he said.
"In touring our industrial zone, you will see that our maritime industry encompasses a wide range of sectors including ship registry, ship and mega yacht repair, oil transshipment and storage and international cargo transshipment."
"We believe that Grand Bahama Island has a lot of potential to develop its natural resources and is poised to become a global shipping and business centre in preparation for the opening of the expanded Panama Canal in early 2015," he added.
Dr Darville said that as a result of the establishment of bilateral diplomatic ties between the two countries, a mutually beneficial relationship can be fostered that will allow the equal exchange of information, create valuable opportunities for trade expansion, transference of technical expertise and knowledge in tourism, maritime and industrial, energy and financial services sectors.
Ambassador Al-Rumaihi expressed his gratitude to Dr Darville and the government for the invitation to visit The Bahamas. He said his country has established the relationship to extend friendship to the people of The Bahamas.
Ambassador Al-Rumaihi will be in Grand Bahama until Saturday. He will meet with executives of the Grand Bahama Chamber of Commerce, Grand Bahama Port Authority, and will tour BORCO, Freeport Container Port, the Ginn Project and West End , and the Deep Water Cay Club in east Grand Bahama.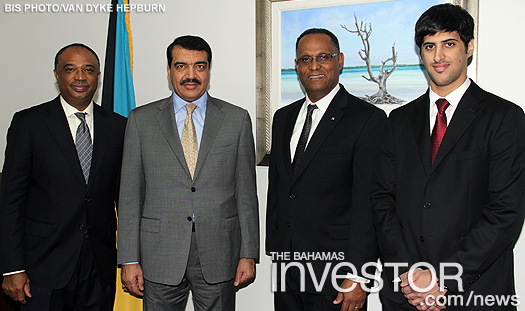 Pictured: Mohamed Bin Abdulla Al-Rumaihi, Ambassador of Qatar and Special Envoy to The Bahamas, pays a courtesy call on the Minister for Grand Bahama Dr Michael Darville November 21. Pictured from left to right: Melvin Seymour, permanent secretary, Ministry for Grand Bahama; Ambassador Al-Rumaihi; Dr Darville; and Hahad Ali Al-Nuaimi, third secretary Embassy of the State of Qatar. (BIS Photo/Vandyke Hepburn)