Commonwealth Brewery executives have credited increased beer sales, broader retail appeal through store upgrades and greater operating efficiencies for driving net earnings up by $5 million year on year.
The report was presented during the company's annual general meeting (AGM) June 4 at the British Colonial Hilton, Nassau.

It was Commonwealth Brewery's second AGM following its share offering in 2010 when local individual, institutional and government investors acquired 25 per cent of the brewery's shares during its first public offering since opening its doors as a private brewery in 1986.
During the presentation managing director Nico Pinotsis said that future earnings could be impacted by changes to fiscal policy recently announced by the government.
"The budget, as announced last week by the government of The Bahamas, is likely to have a significant impact in our business," he said. "Next to an increase of excise duties on spirits, we are confronted with an increase in business license, as well as customs stamp tax."
Pinotsis said analysts had estimated the increase in costs would run about $2.5 million annually.
"The impact of this on our sales volume will still need to be determined, as it will make our company even more sensitive to parallel trade and make the playing field even more uneven," said the managing director, who added that the company was in the "process of liaising with government, to see what measures can be taken to mitigate this as much as possible."
At the meeting, chairman Julian Francis said: "The business of Commonwealth Brewery incorporates a 150,000 sq ft brewery at Clifton Pier, the wholesale distribution of beer, wine and spirits and the network of the largest liquor chain in The Bahamas, comprised of 54 stores from the northernmost island to near the southernmost point."
Francis cited the variety of brands produced by the brewery, the portfolio of Kalik brands, Heineken and Guinness beers, Vitamalt, a full range of Ron Ricardo rums and Ole Nassau. Commonwealth Brewery also represents 70-plus labels of spirits and wines sold in its stores.
Sales volume totalled 194,000 hectoliters or some 656 million fluid ounces of spirits, beer and wine during 2012. Revenue stood at $118 million, up more than $5 million from 2011, earning per share increased $0.06 per share from $0.58 to $0.64, and the company with 381 employees paid dividends of $17.4 million.
Commonwealth Brewery also announced that it had passed the 100 million mark in bottles it had recycled and was now recycling well above half of all the beer bottles it uses.
Pinotsis added that "paramount in our operations is our reduction of energy, water and waste while optimizing production efficiencies. Environmental sustainability is a huge platform and we are proud that we were able to increase our recycling rate at the company's recycling plant by 12 per cent this year, while decreasing non-recycled industrial waste and [carbon] emissions."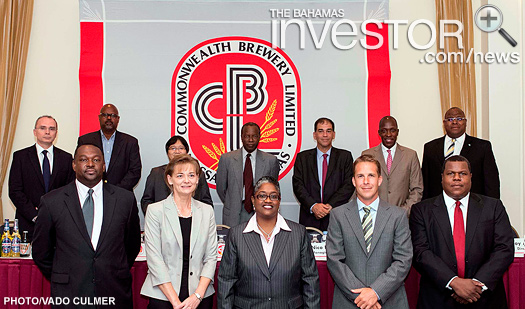 Commonwealth Brewery directors and top management pictured at the BISX-listed company's 2nd annual general meeting include Julian Francis, chairman (centre, back row) and managing director (3rd from right, back row) Nico Pinotsis. (Photo by Vado Culmer)