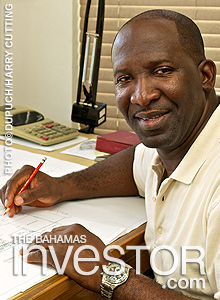 Efforts to improve standards in the Bahamian construction industry have set the country apart from its Caribbean counterparts and established The Bahamas as a leader in the field, according to president of the Bahamian Contractors Association (BCA), Godfrey Forbes (pictured).
As the BCA deliberates on the latest draft of the Contractors Bill, Forbes says the new regulation will boost standards, streamline the industry and ensure inadequate contractors are penalized appropriately.
"We are trying to get the entire industry regulated. We have been working on this for an extremely long time," he says. "Construction has a huge amount of money involved in it. You have foreign investors coming in and spending millions or, in the case of Atlantis and Baha Mar, billions. When you have that kind of industry, you want to do all you can to ensure it is properly regulated and all concerns are met."

The BCA joined the Coalition of Caribbean Contractors Association in 2011 and is working with other nations in the region to help improve their standards. Forbes has provided a draft copy of the current Contractors Bill to Jamaica, so it can use it as a blueprint for regulating its own domestic industry.
"It is important to have that kind of dialogue and understanding and appreciation for the challenges other jurisdictions face," he says. "We are looking at ways we can work together to assist one another."
"They see us as being at the forefront and they want to follow suit. We are being seen as the leader when it comes to the construction industry and getting it regulated."
The bill will introduce mandatory licensing for all contractors, categorize the different trades and create a board to oversee its implementation. This board will consist of representatives from government, the construction industry and the public. Forbes says it will make foreign investors more confident about projects undertaken in The Bahamas and ultimately benefit the wider economy.
"If our industry is properly regulated, we will see much more happening. We want to make the foreign investor comfortable that when he comes into the country, he has a pool of local, qualified contractors that can address any project."
The draft bill is currently being debated by the industry before being submitted to Parliament.
cmorris@dupuch.com