Source:
Date:
Updated:

HG Christie Ltd
Wednesday, August 7, 2013
Wednesday, August 7, 2013

HG Christie Ltd (HGC), the oldest full-service real estate brokerage in the Bahamas, lists historical private island opportunity Bird Cay located at the south end of the popular Berry Island chain in a new Marine Reserve similar to the Land and Sea Park at Exuma Cays. Bird Cay is a 250-acre tropical island located 30 minutes from Nassau, protected on all sides by neighboring islands.

"The southern Berry Islands have become extremely popular due to the beautiful Sea Park and the overall investment potential the island has as it gains popularity in the world," said John Christie, Vice President of HG Christie Ltd. "The Berry Islands are known for their beauty and tranquility and Bird Cay certainly fits that depiction."
The Bird Cay property includes over 4.75 miles of water frontage, sandy beaches, clear waters, panoramic ocean views, moderate breezes, numerous trails, tropical palms and casuarinas plants, as well as citrus and coconut groves that give the island a unique appeal. A small golf course is also possible on Bird Cay due to large grasslands and favorable landscapes.
"HGC has a lot to offer in regard to real estate opportunities in the Bahamas," John Christie, Vice President mentions. Bird Cay is the most recent listing by HG Christie that specialize in private islands,vacation rentals, property management and real estate opportunities in the Bahamas and nearby islands. "This is quite simply a tropical paradise tailor-made for a business retreat, a family compound, or a stunning island resort."
For more information, please visit Bird Cay real estate listings.
About HG Christie Ltd
HG Christie Ltd is a full-service real estate company in the Bahamas offering sales, rentals, appraisals, and property management. Founded in 1922 by the legendary Sir Harold George Christie, HG Christie Ltd. is the exclusive Bahamas affiliate of the prestigious Christie's International Real Estate Network. The company is known as "The Trusted Authority for Bahamas Real Estate" and has an incomparable selection of property listings from across The Bahamas. Listings include private islands, luxury estates, affordable homes and condos, vacation villas, commercial and development properties, as well as vacant land. With eight offices strategically located throughout the Bahamas in Nassau; Freeport; Governor's Harbour, Eleuthera; George Town, Exuma; Marsh Harbour, Hope Town, and Green Turtle Cay, Abaco; the HG Christie team of professional agents is knowledgeable, well established in their market and ready to support their client needs. Website: http://www.hgchristie.com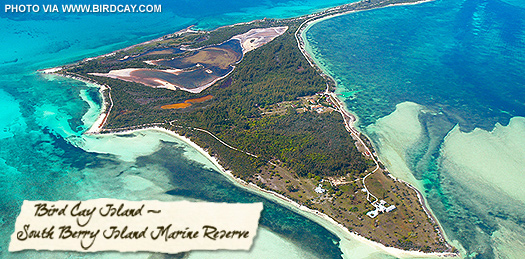 About Bird Cay
Bird Cay is located in the Berry Islands, a chain of islands in the district of the Bahamas, covering about thirty square miles (78 km²) of the northwestern part of the Out Islands. Francis Francis, an heir to the Standard Oil fortune, developed Bird Cay Island in the 1940s as a private retreat. Francis, a member of the English Olympic fencing and track teams, was also a horseman in the army and one of the greatest amateur golfers of the 20th century. After marrying Patricia Leonard, Francis decided to buy his own island and create a personal paradise, building houses and structures from rock quarried from the island.
In its day the home's dining room was host to many kings, politicians, and stars of the time. Francis included Belgium's King Leopold III, the Duke of Windsor, Marlene Dietrich, Rock Hudson, Sir Noel Coward, Greta Garbo and David Niven among his closest personal friends and guests. In later years, Francis became reclusive however, keeping his privacy and shunning publicity by discouraging journalists and photographers to land on the Cay. Website: http://www.birdcay.com