Source:
Date:
Updated:

SuperYachts.com
Tuesday, May 27, 2014
Tuesday, May 27, 2014

Leading Bahamas real estate broker HG Christie has announced the successful sale of the Big Grand Cay Archipelago Estate.
Located in the northern Bahamas, the archipelago is an ultra-exclusive chain of private islands comprising Big Grand Cay, Bakers Cay, Sandy Cay, Mermaid Cay, Rat (Seahorse) Cay, Spongers Cay, Felix Cay, an unnamed cay and three small rocks.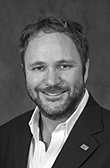 John Christie [photo via hgchristie.com], CEO of HG Christie, said: "The interest for this unique private island holding was strong and competitive. The bidding during the auction was robust and led to a successful offer with the holding being placed 'Under Contract'."
Mr Christie added that the desire for private island ownership is "hotter than ever" and was keen to stress there are several more currently on the market for prospective buyers.
"If you missed this outstanding opportunity, make sure to check out others available such as the gem of Johnny's Cay in the Abacos," he said.
The island of Big Grand Cay itself features a 4-bedroom and 5-bathroom vacation home with saltwater swimming pool, expansive decks overlooking tropical beaches, a deep-water dock, an ocean villa, inland villa and caretaker's quarters.
It has hosted many notable guests down the years including US President Richard Nixon and his family.
The auction took place on May 14th and received an opening bid of $1.95 million.
This is an excerpt from SuperYachts.com as it appeared on May 27, 2014. For updates or to read the current version of this post in its entirety, please click here.

Continue reading this post >