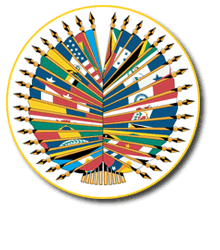 Investment opportunities in The Bahamas were highlighted during a reception hosted by Ambassador Dr Elliston Rahming, permanent representative to the Organization of American States (OAS), at The Bahamas Embassy in Washington, DC, last week.
Addressing the more than 100 lawyers and a cross-section of other professionals from Washington's business community, the ambassador welcomed the guests "not only to the Bahamas Embassy, but to The Bahamas."
The ambassador delegated responsibility for promoting investment opportunities in The Bahamas to deputy chief of mission Chet Neymour, an economist who is an expert in that area.

Neymour noted that The Bahamas has a "long tradition of friendly relations" with the US, adding that "our relations have been diplomatic and it has also been economic."
As regards foreign direct investment in the jurisdiction, Neymour mentioned the $2.2 billion Baha Mar mega project that is being developed on New Providence and also addressed opportunities in the legal field.
"What I have noticed is that a number of you here tonight come from the legal profession," Neymour observed. "We have a lot of local lawyers who conduct business through and with US firms and a number of our real estate transactions also involve members of the US bar. So there are a lot of opportunities for persons in the legal field to invest in The Bahamas and to network with lawyers in The Bahamas."
Neymour emphasized that The Bahamas has a functioning Tax Information Exchange Agreement (TIEA) with the US and other jurisdictions, adding that banking and financial services are "investment areas in which we have been cooperating with the US."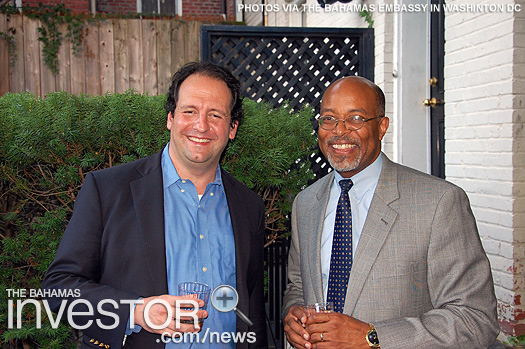 Glenn F Ivey, a lawyer with the firm of Leftwich & Ludaway LLC, right, and Dan Anixt of Verizon were among the more than 100 guests who attended the reception held at the Bahamas Embassy in Washington, DC, August 5. (Photo courtesy The Bahamas Embassy in Washington, DC)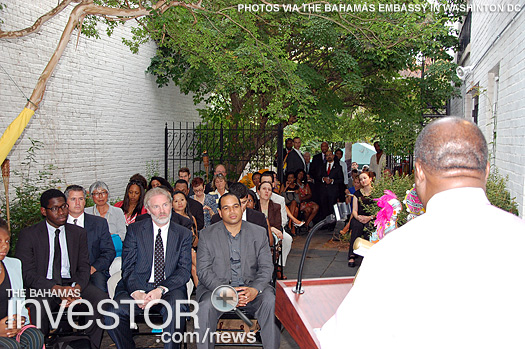 Ambassador Dr Elliston Rahming, permanent representative to the Organization of American States (OAS), addresses guests at a reception he hosted at the Bahamas Embassy in Washington, DC August 5, 2013. (Photo courtesy The Bahamas Embassy in Washington, DC)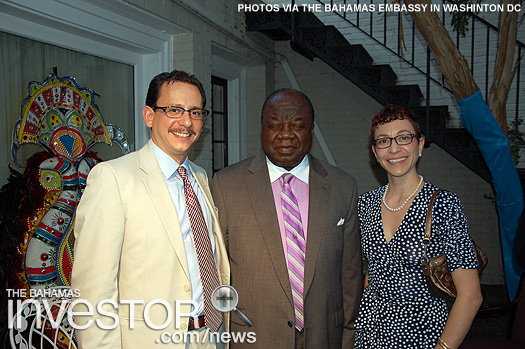 Magin Puig, right, a partner in the law firm of Lavin Puig PLLC, and his wife Alia Isabel Puig, who is also an attorney, with Ambassador Elliston Rahming. (Photo courtesy The Bahamas Embassy in Washington, DC)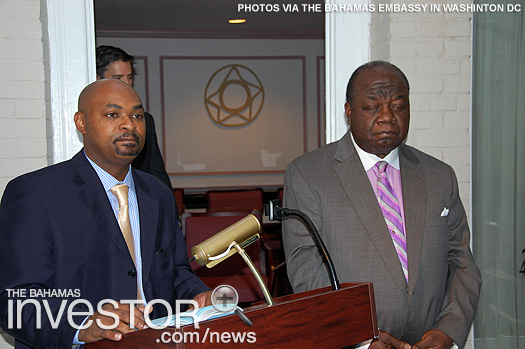 Ambassador Dr Elliston Rahming, and deputy chief of mission Chet Neymour respond to questions from guests at a reception at the Bahamas Embassy. (Photo courtesy The Bahamas Embassy in Washington, DC)