Source:
Date:
Updated:
Author:
City A.M.
Friday, August 30, 2013
Friday, August 30, 2013
Steve Irish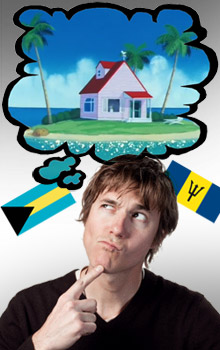 Get a tan while you invest: now is the ideal time to snap up that dream property, says Steve Irish.
SUN, SEA, sand and a sound investment. Too good to be true? Not for business-minded buyers with capital behind them: there has never been a better time to snap up that beach-front idyll.
While traditional Eurozone property investment hubs like Cyprus and Spain continue to languish, locations further afield have proven a safe haven for savvy buyers.
Barbados and the Bahamas are among the countries reaping the benefits of the Eurozone's woes. High-end residential and commercial resorts are springing up to meet soaring demand and experts expect them to prove resilient investments.
The two nations, which book-end the Caribbean, share many positive attributes. Both are welcoming of foreign investment (unlike other territories such as Bermuda, which makes buying property difficult for foreign buyers) and offer an increasingly high standard of living. They share time zones with New York City and Toronto and both have currencies pegged to the dollar, making them ideal business hubs. You can also fly direct to both locations from London.

Even better, their tax regimes are a dream for those used to contributing to the coffers of UK Plc. Neither has income tax, stamp duty, capital gains tax nor inheritance, corporate or dividends taxes.
Add to this both countries' highly evolved communications infrastructure and the multitude of international financial institutions supporting them, and you have an ideal home-from-home where you can close a big deal in the afternoon and be scuba-diving an hour later to celebrate. Kieran Kelly, chairman at Chesterton Humberts Barbados, says: "The luxury property in Barbados has performed extremely well within the last 12 months. The government revamped the residency rules mid 2012 to allow high net worth individuals to gain special residency status in Barbados. As some of the major global markets, especially the UK, Europe and the US continue to falter or remain in turmoil, high net worth individuals and their families are looking to relocate with their money to safer waters such as Barbados.
"For many years Barbados has been an extremely safe haven which also offers a stable economy combined with the most fantastic of lifestyles in the Caribbean. It offers the very best beaches, restaurants and golf courses in the world. In addition, it has some of the most beautiful luxury homes and apartments which can be purchased easily by non nationals. Purchasing a home is tax free: there is no capital gains or inheritance tax and there are no restrictions to non nationals. Barbados is based on UK law and property is owned fully freehold, so it's a very simple and familiar process." Tempted? Here are some investment options:
Baha Mar, The Bahamas
This development is billed as the largest single-phase luxury resort in development in the western hemisphere. It will include 284 private freehold residences as well as four hotels, the largest convention centre in The Bahamas and a 9,000 square-metre Las Vegas-style casino, which will be the largest gaming facility in the Caribbean.
Residential properties are available from £960,000. For more information visit bahamar.com.
This is an excerpt from City A.M. as it appeared on August 30, 2013. For updates or to read the current version of this post in its entirety, please click here.

Continue reading this post >